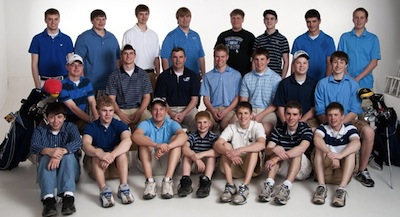 Valley The Hi-Liner golf team debuted in the middle of the Eastern Dakota Conference (EDC) pack in their return to Class "A" golf. City–
The Hi-Liners placed fifth at the EDC event held at Village Green in Moorhead Tuesday.  The team shot 324, 13 shots behind fourth-place Grand Forks Red River.
The Hi-Liners return to the Class "A" ranks after winning last year's state title at the Class "B" level.  They return the entire team from a year ago.
Brian Zerface led the Hi-Liners Tuesday, carding a 78.  Shane Ost shot an 80, Nick Jenson an 81, and Ben Sorensen and Travis Ingstad both shot 85.  Jared Lentz shot 89.
"It was not a bad start, as we have only had one team practice outdoors," said head coach Buff Murray.  "We had hoped to break 320 as a team and were not too far off."
Fargo Shanley won the event with a 300, one shot ahead of Fargo South and three better than West Fargo.  South's Coy Papacheck was the medalist with a 69.
The Hi-Liners play Kings Walk in Grand Forks this Tuesday in their next action.
Comment Disclaimer: The views and opinions expressed in the comments section of NewsDakota.com are solely those of the comment author and do not necessarily reflect the views and opinions held by NewsDakota.com.