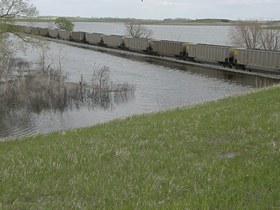 A plan to build an outlet near Sanborn to reduce the lake level took one step forward this week as the Barnes County Water Resource District board submitted a form for an emergency permit to the state water commission.
Board member Pat Hurley says the board is awaiting right of way easements from 3 landowners before moving forward. He says the landowners have given a verbal agreement to go ahead.
Under the plan, Hurley says a 36 inch underground pipe with a control device would be installed east of Sanborn to drain 7 feet off the lake over a 2 to 3 year period.
Officials with Burlington Northern Santa Fe say the lake has grown in size and caused problems with their rail bed near Sanborn.
Trains have blocked the only rail crossing out of Sanborn for extended periods of time due to the high water.
On Tuesday, Hurley said officials with B-N-S-F agreed to pay 97 percent of the cost to install the drain. He says the estimated cost is at $270,000.
Barnes County Water Resource District Secretary Jamie Smith says if everything goes as planned with the ease acquisition, the emergency drain could be completed in 30 to 60 days.
Right now a chain of 3 lakes one near Sanborn, another near Ekelson and the 10 mile lake near Dazey are flowing uncontrolled naturally into the Sheyenne River north of Valley City.