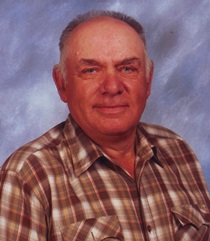 Henry "Hank" Thum, 82, Valley City, ND passed away Thursday, May 31, 2018 at Rosewood on Broadway in Fargo, ND. The funeral service for Hank will be held at Our Savior's Lutheran Church, Valley City at 2:00 PM, Monday, June 4, 2018. Visitation will be on Sunday from 5-7 PM with a prayer service beginning at 7 in the Lerud-Schuldt-Mathias Funeral Home chapel.
Henry John Thum was born February 12, 1936 in Page, ND to Alfred and Emma (Krack) Thum. He attended school at Minnie Lake, Pillsbury, and Page. Hank worked for area farmers and then Hogeson's Construction, where he traveled extensively building and fixing grain elevators. He eventually moved to Valley City, ND where he began working with Valley City Public Works on January 1, 1974. He retired after working there for over 30 years.
Hank was a member of Our Savior's Lutheran Church, the Eagles Club and Barnes County Wildlife. He helped the Optimist Club run roller skating for many years. His free time was spent hunting, fishing, and playing cards.
Henry is survived by his brothers, Richard of Page and Alfred "Bud" of Valley City and sister, Violet Thum of Fargo. His nieces and nephews, LeRoy Johnson, Amy Bergen, Allen Rausch, Anna Marie Stenson, Andrew Rausch, Myra Wilder, Michael DeSha, Joel DeSha, and Kevin DeSha, and a number of great nieces and nephews also survive.
He was preceded in death by his parents; sisters, Vera DeSha, Barbara Johnson, and Alice Rausch; and nephews, Wayne Johnson and Keith DeSha.
The Thum family would like to thank everyone at Roger Maris Cancer Center, Hospice of the Red River Valley, and Rosewood on Broadway for the care Henry received.
Lerud-Schuldt-Mathias Funeral Home in Valley City is assisting Hank's family with arrangements. An online guestbook is available at lerudschuldt.com