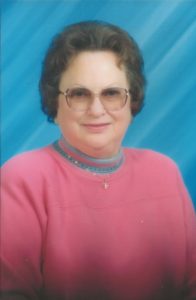 Helen Peterson, age 85, a resident of Minot, ND, formerly of Valley City, ND passed away Thursday, March 22, 2018 at Trinity Health in Minot.
Helen Mae Burchill, the daughter of James and Ida (Holcomb) Burchill, was born September 28, 1932 in Luverne, ND and grew up near there.  Helen was married to Thomas Peterson and to this union they were blessed with eight children. Helen's life was centered around her children.  She enjoyed spending time with and caring for her grandchildren, crafting and flower gardening. Helen loved to watch the butterflies that were drawn to her flowers.  In the years after her family grew and left Minot, Helen spent a lot of time with her son, Chuck, and his daughters, Lisa and Shellie, as they resided near her.
Helen is survived by seven of her children; Tim Peterson, Boise, ID, Gail (Ken) Swanson, Fergus Falls, MN, Robert Peterson, San Diego, CA, Deb Peterson, San Diego, CA, Jeff Peterson, San Diego, CA, Chuck Peterson, Minot, ND, and Jon Peterson, Canon City, CO; 7 grandchildren; 11 great grandchildren; one brother, Richard Burchill, Fargo, ND and one sister, Marjorie Jungnitsch, Diamond Springs, CA.
She was preceded in death by her son, Joel Thomas Peterson; parents; 2 sisters, Joyce Moritz and Janice Mahlmam, and one brother, Wayne Burchill.
A graveside service will be held at Woodbine Cemetery in Valley City, ND on Wednesday, June 13, 2018 at 11:30 AM, with interment next to her son, Joel.
Lerud-Schuldt-Mathias Funeral Home, Valley City, is assisting Helen's family with arrangements.  An online guestbook is available at www.lerudschuldt.com