JAMESTOWN, N.D. (JRMC) – Jamestown Regional Medical Center (JRMC) recently announced Susan Matthiesen as its most recent Legend Award recipient.
The Legend Award is the most prestigious distinction for a JRMC employee. The Legend Award recognizes employees who exceed expectations and make the difference in the lives of those they serve.
JRMC Foundation Office Coordinator Penny Holland nominated Matthiesen because of Matthiesen's everyday philanthropic care for JRMC's staff, patients and guests.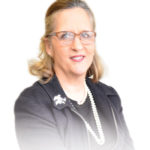 "Patients who come to JRMC for audiology services are beneficiaries of Sue's professionalism, expertise and dedication to them. Sue has been known to go on 'house calls' to visit patients who are unable to make it to our campus. There are many days Sue juggles a full day to fit yet another patient into her busy schedule. As a member of the Sertoma Club, Sue shares club offerings with her patients and investigates every avenue to find ways to help them get hearing aids and other devices they need to improve their quality of life. With Sue as their audiologist, JRMC patients get the best care by a compassionate person," Holland wrote.
Matthiesen joined the JRMC team in 1996. She lives in Jamestown with her husband, Jim.
JRMC's 350 employees cast anonymous votes to select the Legend Award winner.
The purpose of the Legend Award is to inspire, motivate and capture the moments that define JRMC. The goal is to help employees and volunteers connect to the sense of purpose that brought them to the organization. This award is for employees who've made extreme efforts to benefit their patients and colleagues.
"The nominations inspire staff members to continually be the best, exceed expectations and make THE difference in the lives of those we serve," said JRMC Chief Executive Officer K.C DeBoer.
Once nominated, both JRMC administration and employees voted on their favorite nominees and their stories.
"JRMC goes above and beyond for its staff from our Legend Awards each quarter to employee engagement," said Ricki Ramlo, JRMC Chief Operating Officer. "We are grateful for our employees' commitment to caring for our patients and our community."
The Legend Award first began in 2012. Since then, more than 30 individuals were named Legends and more than 100 employees were nominated.
To read Matthiesen's full story, visit www.jrmcnd.com.