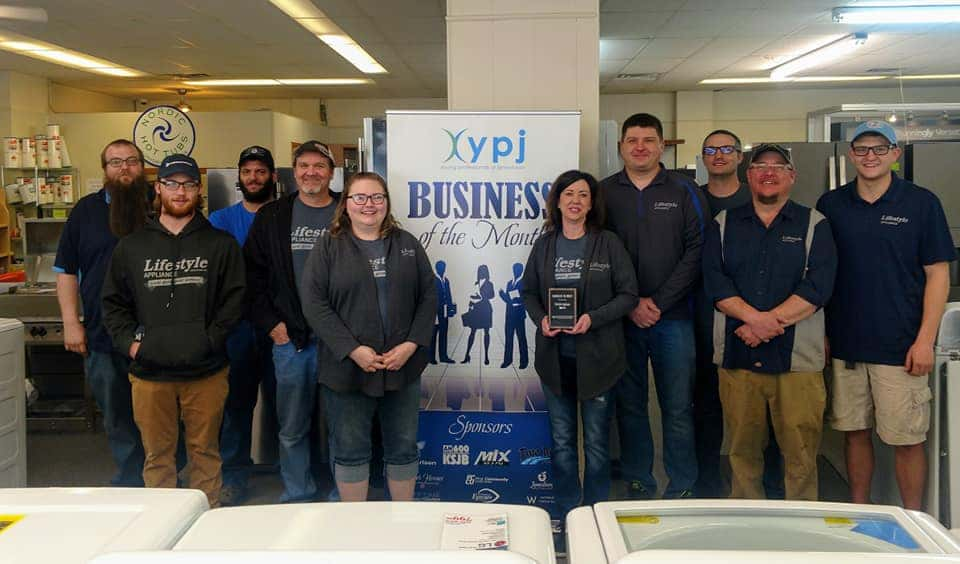 JAMESTOWN, N.D. (NewsDakota.com) – Members of the chamber Young Professionals of Jamestown and the chamber Ambassadors recently presented the Business of the Month Award to Lifestyle Appliance & Entertainment Center of Jamestown for their outstanding customer service and continued commitment to the community.
This business is located at 918 17th St. SW in Jamestown and they can be reached at 701-252-8111.
The nomination stated:
"Lifestyle goes above and beyond to help you when you're in a pinch. We had our fridge breakdown and everyone we encountered there was knowledgeable, friendly, kind and helpful. They never made us feel like we were a bother and treated us with amazing customer service from start to finish. They really deserve this Business of the Month award to recognize their hard work from their service team, office team, and delivery."
The Young Professionals of Jamestown honor businesses that provide superior customer service, exhibit community spirit and provide a positive economic impact to the community.
"This award provides recognition throughout the month with a plaque and a recognition banner for the month," the chamber states.
Lifestyle Appliance, along with all of the other monthly winners, will be considered for the Business of the Year to be awarded at the Chamber's annual banquet in January of 2020.
Business of the Month award nomination forms are available at the Chamber office and online at www.jamestownchamber.com . Call 701-252-4830 for more information.
Photos and information courtesy of the Jamestown Area Chamber of Commerce