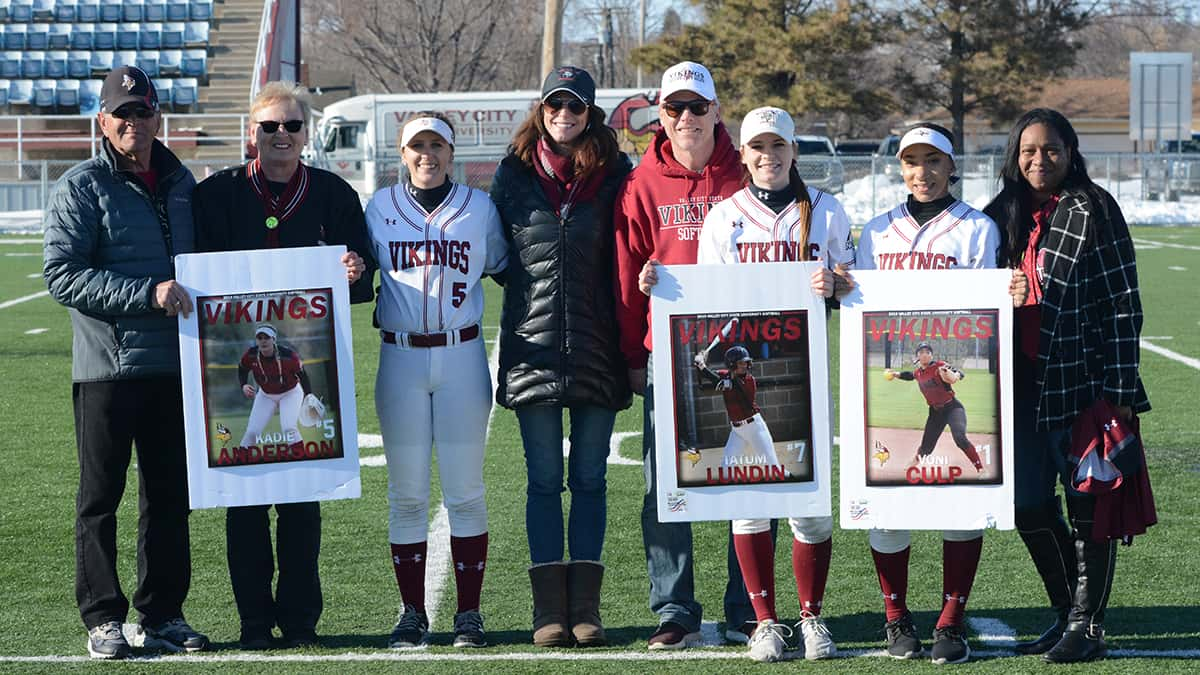 VALLEY CITY, N.D. (VCSUVikings.com) – Emily Smith and Emilee Wilson pitched back-to-back complete games Saturday and the Valley City State softball team swept their Senior Day doubleheader against Viterbo University.
Smith struck out 13 batters in the opener as she pitched a complete-game shutout in a 1-0 victory. In game two, Wilson went the distance as she struck out eight batters and gave up just one run in a 5-1 victory.
The No 8-ranked Vikings improve to 33-2 overall and are now 13-1 in conference play. The sweep came on VCSU's Senior Day, with the Viking honoring Kadie Anderson, Tatum Lundin and Voni Culp in a postgame celebration.
Viterbo drops to 12-21 overall and 7-9 in the North Star Athletic Association.
Up next: Valley City State and Viterbo University rematch Sunday for another doubleheader at 11 a.m. in Valley City.
VCSU 1, Viterbo University 0
Smith was a one-person wrecking crew in game one. The junior drove in the game's only run and was dominant in the circle, retiring the first 19 batters she faced en route to the complete game shutout. After Viterbo put the tying run on second base in the seventh inning, Smith struck out the final two batters to end the game. Smith allowed just three hits, walked no one and struck out 13.
Viterbo's Kendyl Schine took the hard-luck loss after a strong pitching performance. Schine scattered nine hits over her six innings, allowing one run and striking out two.
The teams were tied 0-0 before Smith plated the game's only run with her one-out double in the bottom of the fifth, scoring Joelle Aiello from first base. Aiello, Smith and Autumn Perry each had two hits for VCSU. Kadie Anderson was 1-for-1 with a walk and a sacrifice.
Viterbo's Sonya McCormick opened the game with a double but was thrown out trying to stretch it to a triple. It was the first of 19 straight batters retired by Smith and the Viking defense. The V-Hawks did not have a runner on base until back-to-back one-out singles by Alyssa Nilssen and Lauren Davis in the seventh inning. With the tying run on second base and the go-ahead run at first, Smith recorded her 12th and 13th strikeouts of the day to finish the game.
VCSU 5, Viterbo University 1
Valley City State scored three runs in the bottom of the third inning, breaking open a scoreless game two. That's all the offense Emilee Wilson would need as she gave up just four hits and one run in a complete game performance. Wilson did not walk a batter and struck out eight.
Tied 0-0, the Vikings got four straight one-out singles in the third inning from Tatum Lundin, Jayme Menard, Joelle Aiello and Voni Culp. Aiello's and Culp's hits scored Lundin and Menard for a 2-0 lead, and then Emily Smith capped the three-run inning with a sacrifice fly.
Autumn Perry's fourth-inning RBI double made it 4-0 in favor of the Vikings. Viterbo got one run back in the sixth after Alyssa Nilssen doubled and later scored on a wild pitch. Joelle Aiello answered with an RBI single in the bottom of the sixth to make it 5-1.
The Vikings finished with 10 hits on the day, including three by Aiello who finished 3-for-4 with a run and two RBIs. Lundin added two hits, including a double, while Culp, Smith and Perry all drove in a run.
Nilssen led the V-Hawks with a 2-for-3 day at the plate and scored the team's only run. McCormick and Autumn Olson each added a hit.
Caitlyn Kozik took the loss for Viterbo, giving up 10 hits and five runs over six innings. She walked two and struck out three.