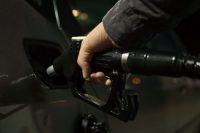 JAMESTOWN, N.D. (NewsDakota.com) – Gas Prices in North Dakota and much of the Midwest are on the rise.
Prices at the pump could continue to rise as the summer travel season begins, says Patrick DeHaan with GasBuddy.com. "I would expect prices, yes to continue moving up perhaps as late as Memorial Day weekend and that may bring prices … closer to three-dollars," says DeHaan.
GasBuddy.com analyzes gas prices across the country. As of Monday, the national average for a gallon of gas is $2.83. The statewide average in North Dakota is $2.73. Prices in Jamestown for a gallon of regular unleaded gas is at $2.74. Users of the GasBuddy app can submit gas prices for other users to find the cheapest gas in their area.
The website also analyzes foot traffic in gas stations. The quietest times to fill up are all day Sunday, followed by Monday from 7AM to 10AM. The busiest time is Friday at 5PM.
Story by Jacob Just