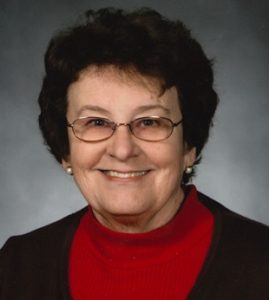 Kay Lorene (Gaskey) Willson, 70, of Valley City, ND formerly Litchville, lost her struggle with cancer on Sunday, April 14, 2019 at Mercy Hospital in Valley City.

Kay was born May 28, 1948 in Lima, Ohio to Irvin and Laura (Brentlinger) Gaskey. She was confirmed at Grace Methodist Church in Lima. Following her graduation from Elida High School in Ohio, she attended and graduated from Jamestown College in 1970 earning her degree in teaching.

Kay was united in marriage to Robert Willson August 16, 1968, recently celebrating their 50th wedding anniversary. To this union is their daughter Victoria and son Todd. Kay taught elementary school in Courtenay, ND then moving to the Litchville, ND area teaching elementary school in Litchville and finishing her career with the Litchville-Marion School District in 2012.

Kay and Robert moved to Valley City November of 2016. She was a member of the Trinity Lutheran WELCA Mary Circle and NDEA. Kay enjoyed reading, gardening, and traveling, especially to visit her children and grandchildren.

Kay is survived by her husband, Robert Willson, Valley City; daughter, Victoria (Steve) Burnley, El Paso, TX ; son, Todd Willson, Harrisberg, SD; and grandchildren; Sydney Burnley, Emma Burnley, Autumn Willson, Connor Willson, and Danesa Willson.

A funeral service will held 10:30 am Saturday, April 20, 2019 at Trinity Lutheran Church, Litchville, ND. Visitation will be Friday, April 19, 2019 from 2-4 pm with a prayer service at 4 pm at Oliver-Nathan Funeral Chapel, Valley City, ND. Visitation will continue one hour before the service at the church. Burial will be in Trinity Lutheran Cemetery, Litchville.

Funeral arrangements have been entrusted to the care of Oliver-Nathan Funeral Chapel, Valley City. An online guestbook is available at olivernathanchapel.com.