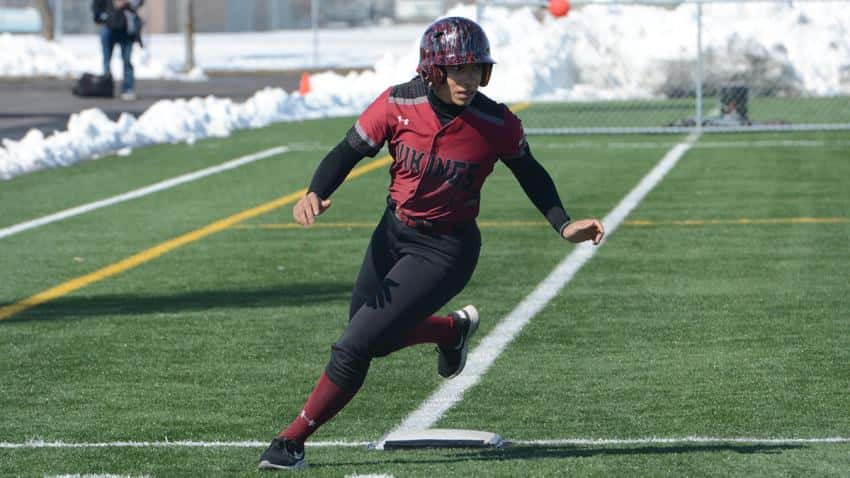 VALLEY CITY, N.D. (VCSUVikings.com) – The Valley City State softball team split a doubleheader with Viterbo University on Sunday, securing its fourth straight series win to start conference play.
Viterbo's bats came alive in game one Sunday as they totaled nine hits in a 7-5 win over the Vikings. VCSU's bats bounced back in game two, putting up 14 hits and nine runs in a 9-6 Viking victory.
Paired with Saturday's sweep of the V-Hawks, Valley City State finishes with three wins in the four-game series and improves to 14-2 in conference play. The Vikings are now 34-3 overall and are ranked No. 8 in the nation.
Viterbo University is now 13-22 overall and 8-10 in conference play.
With 12 conference games remaining, the Vikings have a two-game lead in the conference standings. VCSU is 14-2 in the North Star while Bellevue is 12-4. Viterbo is fifth in the NSAA standings at 8-10.
Up next: Valley City State is scheduled to play a four-game series at Waldorf University on Friday and Saturday. Viterbo is scheduled to host Mayville State for doubleheaders on Wednesday and Thursday.
Viterbo 7, VCSU 5
The V-Hawks erupted for four runs in the top of the fourth inning, taking a 6-4 lead en route to the 7-5 victory in game one.
Katelin Gilbertson's sacrifice fly started the four-run fourth for Viterbo, cutting VCSU's lead to 4-3. Alyssa Nilssen's RBI single tied the game at 4-4, and then Lauren Davis gave the V-Hawks the lead for good with a two-run double to left-center. The V-Hawks tacked on an insurance run in the top of the fifth on Gilbertson's RBI double to make it 7-4.
The Vikings threatened in the bottom of the seventh, putting two runners on with no outs, but were only able to score once in their last at bat.
Brookly Ottelien earned the win for Viterbo after going six innings. She gave up seven hits and five runs and walked three. Kendyl Schine came on in relief in the seventh inning to earn the save.
Emilee Wilson took the loss for VCSU, giving up four hits and five runs – only two of which were earned – in 2 1/3 innings. Emily Smith pitched 4 2/3 innings, allowing five hits and two runs.
Gilbertson led the V-Hawk offense with two hits and three RBIs. Sonya McCormick led off the game with a solo home run and finished 2-for-4 with two runs and an RBI. Autumn Olson added two hits and scored three runs.
VCSU's seven hits came from seven different players. Marissa Hawkins drove in two runs, while Joelle Aiello, Tatum Lundin and Jayme Menard each had a hit and RBI.
VCSU 9, Viterbo 6
Valley City State scored five runs in the bottom of the first inning and never trailed in game two, securing the series victory with a 9-6 win in the finale.
Joelle Aiello led off the bottom of the first with a walk, and VCSU followed with four straight hits to spark the big inning. Marissa Hawkins had a bases-loaded double, clearing the bases for a 4-0 lead. Tatum Lundin capped the rally with a two-out RBI single.
Viterbo cut the lead to 5-2 and 7-4, but each time the V-Hawks scored the Vikings found an answer offensively. Valley City State finished with 14 hits compared to seven by the V-Hawks.
Voni Culp went 3-for-4 with two runs and two RBIs for VCSU. Aiello, Emily Smith, Riley Perrymanand Lundin all had two hits, and Hawkins finished 1-for-4 with four RBIs.
Katelin Gilberson led the Vikings with a pair of hits and four RBIs. Autumn Olson added two hits and scored two runs.
Emily Smith pitched five total innings for the win, giving up four hits and four runs. She walked three and struck out three. Amber Stewart went two innings in relief, allowing two hits and two runs.
Caitlyn Almberg started in the circle for Viterbo and was tagged with the loss after giving up four hits and four runs without recording an out.