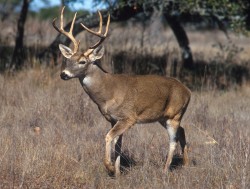 BISMARCK, N.D. (NewsDakota.com) – The North Dakota Game & Fish Department is encouraging residents to get a jumpstart on applying for their deer season license.
The 2019 deer season is set with 65,500 licenses available to hunters this fall, which is 10,350 more than last year. Game & Fish Wildlife Biologist Doug Leier says while it may be early to start thinking about the season, the application deadline isn't too far away.
Leier says residents need to decide a couple of things between now and the deadline.
In other Game & Fish news, Leier says the Minnesota fish season open is coming up soon. He says those who may be traveling to the state to participate may cause anglers from Minnesota to come to North Dakota.
For more information about the upcoming deer season, deer applications, fishing, and more, visit gf.nd.gov.
You can listen to Doug Leier every Thursday at 7:20 AM on Big Dog Country 95.5 FM with JD in the Morning.