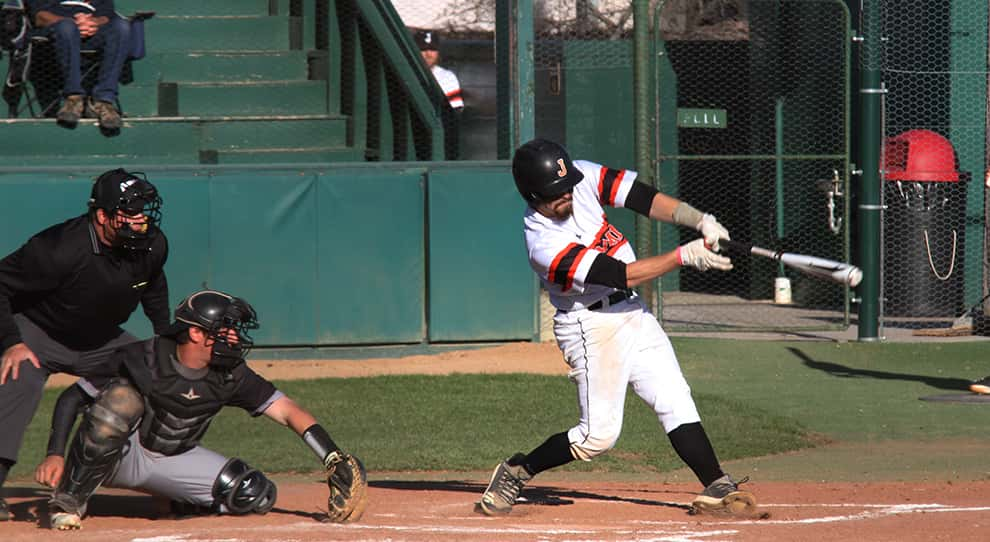 SANTA BARBARA, Calif. (JimmieAthletics.com) –
Playing from behind for most the of the day, the University of Jamestown baseball team was unable to mount one final rally Monday, falling to 25th-ranked Arizona Christian University 5-4 in the Santa Barbara Bracket of the NAIA Opening Round.
Jamestown, now 35-17 on the year, will face the loser of Westmont (Calif.) and Antelope Valley (Calif.) in an elimination game Tuesday morning at 11:00 a.m. CDT. Arizona Christian (39-19) takes on bracket top-seed Science & Arts (Okla.) at 6:00 p.m. CDT Monday.
The Jimmies scored in their first trip to the plate against the Firestorm, as Jaden Yackley (SR/Lynnwood, Wash.) led off with a single and moved to second on a sacrifice bunt by Chase Hacker (JR/Millcreek, WA). A passed ball by the ACU catcher allowed Yackley to advance to third. One out later, Drake Pilat (SR/Winnipeg, MB, Canada) came through with a single to left, scoring Yackley to give UJ a 1-0 lead.
ACU answered with three runs in their half of the first, with Jake Sim's double to right-center tying the game, then Eric Schwalbe driving in two more with a single to left-center field.
Jamestown got one of the runs back in the top of the second as Grant Okawa (JR/Mississauga, ON) scored on a wild pitch to make it 3-2.
The Firestorm made it 4-2 in the bottom of the fourth on a single by Christian Maggi.
UJ cut the deficit to one in the top of the fifth. Zach Zurbrugg(SR/Bremerton, WA) led off the inning with a single, then courtesy runner Nick Wrigg (JR/Helena, MT) stole second base to get into scoring position. With the ACU third baseman playing back, Jared Bentley (JR/Washougal, WA) bunted for a base hit, placing the ball between the pitcher and third baseman, with neither able to make a play as Wrigg took third. Yackley's fly ball to center field was deep enough to score Wrigg and make it 4-3.
Zurbrugg was clutch again for the Jimmies in the top of the sixth, as his single to center field scored Kaleb Binstock (SR/Grand Forks, ND) to tie the game at four. Binstock led off with a walk and moved to second on a sacrifice bunt by Braxton Hewitt (FR/Carrington, ND). After Okawa popped out for the second out of the inning, Zurbrugg's hit allowed Binstock to come home from second.
The bottom of the seventh saw the Firestorm rally for the go-ahead run against Jimmie reliever Austin Pesicka (JR/West Linn, OR) (4-2). With one out and the bases loaded, Sim reached on a fielder's choice to score Brent Smith. ACU had runners on second and third with two out, but Pesicka was able to retire Schwalbe and limit any further damage.
Jamestown had a runner on first with two outs in the top of the eighth following a single by Grant Okawa, but he was thrown out trying to steal second base for the third out. UJ also got a runner on in the ninth against ACU closer River Carbone, but the right-hander shut the door on the Jimmies, recording his 12th save of the season.
Zurbrugg finished the day 3-for-4 at the plate. Yackley also recorded a pair of hits.
Kensaku Akiya (JR/Kawasaki, Japan) started on the mound for Jamestown and went 5 1/3 innings, allowing four runs (three earned) on nine hits. He walked three and struck out one. Pesicka went 1 2/3 innings, allowing one run on three walks. Cade Torgerson (FR/Billings, MT) (one-third) and Andrew Reed (JR/Woodinville, WA) (two-thirds) worked a scoreless ninth.
Cam Sharp (4-2) was the winning pitcher for ACU. He worked two innings in relief of starter Trevor McGee, striking out two. McGee went six innings and allowed three runs on six hits. He walked two and struck out four.