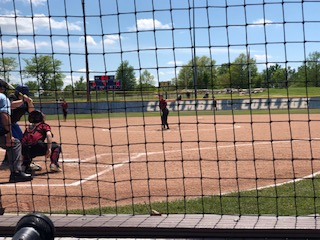 COLUMBIA, MO. (Newsdakota.com) – When Emily Smith faced Madonna University back in March, she allowed three runs and six hits in five innings. It was one of the poorest outings for the North Star Athletic Association Pitcher of the Year. Fast forward two months, the junior got another shot at the Crusaders and this time held them in check as the sixth ranked and top seed Valley City State Vikings downed the Crusaders 2-1 in the 2019 NAIA Softball opening round in Columbia, Missouri.
The Junior from Portage La Prairie, Manitoba allowed three hits with no walks and eight strikeouts. The lone run came in the bottom of the seventh with two out when Kerstyn Comerzan hit a no doubt blast over the left field wall. Smith retired the first seven batters she faced and 17 of 18 at one point. The Crusaders would not get a batter past first until Comerzan's home run.
Trying to match her pitch for pitch was Madison Henry. She allowed just two base runners in the first four innings. The Vikings finally dented the scoreboard with two out in the fifth on Jayme Menard's rbi single that scored Katie Anderson. Anderson had two hits for the Vikings who had six off Henry.
Head Coach Mike Mook says both pitchers were dealing, but some credit goes to Jayme Menard, Smith's battery mate.
The eventual game winning run came in the top of the seventh. Anderson led off with a single to center. Nicole Reed came in to run for Anderson. After Tatum Lundin popped out, Menard grounded out to second, but on the play, Reed moved to second base. Joelle Aiello singled up middle scoring Reed to make it 2-0 Vikings.
After Comerzan's home run in the seventh, Smith struck out pinch hitter Yogi Hang to end the game and send the Vikings to Tuesday morning's winners bracket. Valley City State, now 52-3 and winners of 19 in a row, will take on Columbia College. The host Cougars beat Brenau College from Georgia 4-0.
Coach Mook says it nice to get game one.
Gametime for the winners bracket game will be at 10:00am Tuesday. Pregame at 9:50am on 1490AM/96.3 FM KOVC and newsdakota.com.