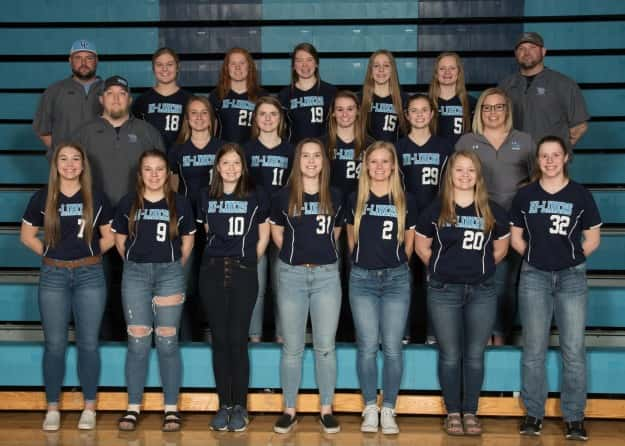 WEST FARGO, N.D.(NewsDakota.com) – The Valley City Hi-Liners took a page out of the Valley City State playbook by scoring seven runs, six coming with two outs in the top of the seventh inning on the way to a 12-5 win over West Fargo Sheyenne and a doubleheader sweep Tuesday in West Fargo.
Hailey Schaefer highlighted the big inning with a 2-run home run to cap the scoring. Grace Scherr had an rbi single, Jessie Undem drove in a run with a sacrifice fly and three runs scored on errors.
Eliza Johnson led the 13 hit attack with three hits. Scherr, Schaefer and Erin Anderson had two hits each. Schaefer got the win in relief of Becca Thompson who went 4 1/3 innings. She allowed four hits, and four earned runs with seven walks and six strikeouts. Schaefer went the last 2 2/3 innings.She allowed one hit, and one earned run with a walk and six strikeouts.
In game one, Schaefer tossed a one-hitter. She walked one and struck out 17 batters, one off her career high set earlier last week against Fargo Davies. The Hi-Liners won 11-0. They scored six runs in the seventh. Schaefer again with a strong offensive performance. She had three hits and drove in three runs. Jessie Undem also had three hits as all nine starters had at least one hit. The Hi-Liners had 16 as a team.
With the two wins, Valley City finishes the conference season 14-4. They are 13-6 overall and have won eight games in a row, They wrap up the regular season Friday when they host Jamestown for a non-conference matchup at 4:30.
That game can be heard on 1490AM/96.3FM KOVC and newsdakota.com