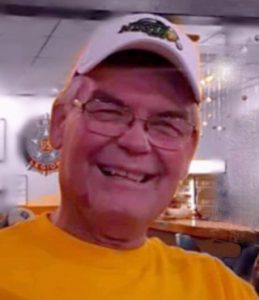 Jeffrey Allen "Carp" Carpenter, 61, Valley City, North Dakota died Monday, May 13, 2019 at Mercy Hospital.  There will be a family and friends gathering Thursday, May 16 from 5-7 pm at the Dacotah Pavilion in Chautauqua Park, Valley City.  The Celebration of Life Service for "Carp" will be 11 am Friday, May 17, at Dacotah Pavilion.
Jeffrey Allen Carpenter was born March 15, 1958 in Valley City to Douglas and Jeanette (Henke) Carpenter.  He attended school in Valley City and graduated from Valley City Public School in 1976.  Carp married Anne Grohnke and they made their home in Valley City where he worked for Valley Grocery.  He then worked for Valley City Parks and Rec.  In 1982 his son Michael was born and in 1984 his son Chistopher was born.
He began working at Tri W-G and while continuing to work there, Carp purchased the Groundsman lawn care business in 1988.  He married Debra Baumgartner in 1989. They continued to make their home in Valley City and they had two children born, Cally Jayne in 1992 and Chase Allen in 1995.  Carp began working as a welder for John Deere for several years.  They sold the Groundsman business in 2002.  He started racing cars in 1998 and continued until 2003 but started up his passion for racing again in 2014 and was still racing.  He managed the American Legion for 2 years until beginning work at Shocker Hitch of Arthur, ND.
Carp is survived by his four children, Michael Carpenter, Fargo, ND, Chris (Allie) Carpenter, Wimbledon, ND, Cally Carpenter, Valley City, Chase Carpenter, Valley City; two grandchildren, Matesi and Marleigh Carpenter; mother, Jeanette Jean Larson, Valley City; a brother Kevin (Dallas) Carpenter, Gillette, WY; a sister, Debbie (Randy) Earles, Valley City; nieces and nephews, Bridgette (Cory) and children, Shawn and Drew, John, Zachary and Benjamin.
He was preceded in death by his father, brother, Kelly Carpenter, and his grandparents, Martha and Ed Henke & George and Elizabeth Carpenter.
Funeral arrangements have been entrusted to the care of the Oliver-Nathan Funeral Chapel, Valley City.  An online guestbook is available at www.oliver-nathanchapel.com