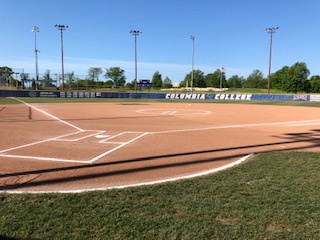 COLUMBIA, MO. (Newsdakota.com) – For the rest of the tournament, Valley City should start every inning with two outs. All seven runs scored in the Opening Round in Columbia, Missouri has come with two out. Of the 12 hits Tuesday, ten came with two out as the Vikings advanced to the Championship with a 5-3, extra inning win over Columbia College in the winner's bracket game in the Opening Round..
Katie Anderson's two-out rbi triple in the eighth inning broke a 3-3 tie. Then Tatum Lundin followed that with an rbi single for insurance.
The Viking tied the game at 3 in the seventh when Joelle Aiello tripled with two out then scored when Columbia shortstop Molly Carter misplayed Vonni Culp's grounder.
TheVikings got on the board first in the first when Marissa Hawkins singled in Culp and Riley Perryman scored on a double steal. The rbi for Hawkins was her 59 of the season and gives her the new single season rbi record.
The Cougars would tie the game at 2 in the bottom of the inning when Mackenzie Kasarda tripled in two runs off Emily Smith. Emilee Wilson would come in to relieve Smith and get the Vikings out of the inning without any further damage.
The Cougars would take the lead 3-2 in the fifth when Jacy Meyer singled in Molly Carter. It would sty that way until the Vikings late game rally.
The freshman Wilson, the NSAA Newcomer of the Year, would go 7 2/3 innings of work. She allowed six hits, one earned run. Shewa;ked five and struck out 9 to improve to 19-1-1 on the year.
Valley City State,now 53-3, has won 20 games in a row and will play either Columbia University or Madonna University in Wednesday's Championship.
Gametime is set for 11am with the pregame at 10:45 on AM 1490KOVC/96.3 FM and newsdakota.com