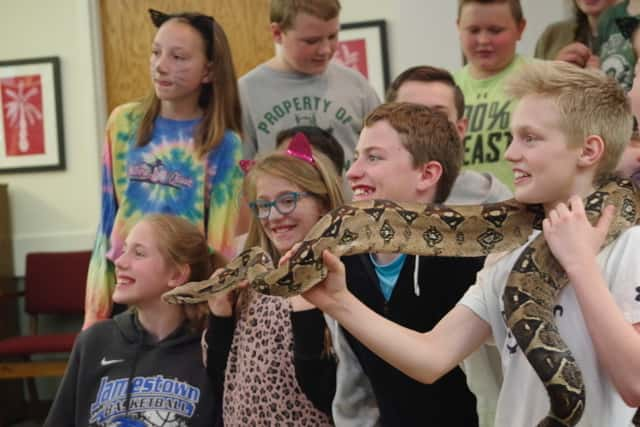 JAMESTOWN, N.D. (NewsDakota.com) – Students and elderly witnessed a "zoo" of an exhibit Wednesday morning at Ave Maria Village.
The current exhibit at the Jamestown Arts Center is called "Narrative Geometry" and features the arts of Warli by Vaishali Mohite. Each painting by Mohite is a snapshot of village life in the Maharashtra region of India.
"The artist continues a folk art tradition called Warli," the Arts Center states. "The Warli are the largest tribe found on the northern outskirts of Mumbai, in Western India. [They've been creating these paintings for over 10,000 years."
As part of the exhibit, the North Dakota Council on the Arts organized the "Art for Life" program, which seeks to improve the emotional and physical well-being of elders through art and artist interaction.
Three "Art for Life" activities have been planned in Jamestown. The first of which took place Wednesday morning at Ave Maria Village.
"We had elders and 6th grade students from St. John's join us this morning," Angela Martini stated. "We teamed up with the Wahpeton Zoo to bring in live animals while also talking about Warli Animal Paintings."
Students met Reese the Llama, Tess the Red-tailed Boa, and Chad & Tiffany the African Hedgehogs from the Chahinkapa Zoo.
The Arts Center is also seeking 4th and 5th graders to participate in their Warli Games on May 31st and June 1st at the Jamestown Arts Center.
Call 701-251-2496 for more information.
Photos and information courtesy of the Jamestown Arts Center and Angela Martini.

Art for Life in Jamestown