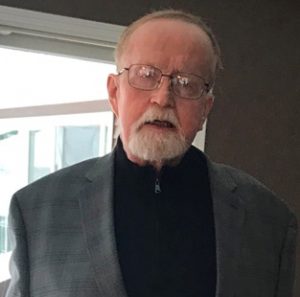 David Aamold, age 65, of Lake Park, MN formerly of West Fargo, ND, died Wednesday, May 15th at his sisters residence in Lake Park under Hospice Care.  A memorial service will be held at 2:00 PM Saturday, May 18th at Cormorant Lutheran Church, Lake Park, MN.  Visitation will held one hour before the service at the church on Saturday afternoon.
David Michael Aamold, the son of Louis and Florence (Tereau) Aamold, was born August 18, 1953 in Portland, ND.  David grew up with his sisters Barbara and Linda and brothers Douglas and Donnie. The family resided in the Valley City area, where David worked alongside his father and brothers building grain elevators, and various large-scale projects; to which he had an extensive library of comical stories that he liked to share.  Amid these stories, were David's accounts of his time served within the United States Air Force and his pride serving our country.
David was also a lover of the outdoors, and enjoyed fishing.  David spent countless hours fishing, the Little Dam of Valley City being a prime spot that drew him in.  However, family (and David, himself) would tell you that he had a passion for medicine.  He studied medicine, and pharmacology his entire adult life, collecting medical memorabilia along the way.  His collection of medical pens alone, grew into the thousands.
David had a BIG presence, and carried himself in such a way, that if you did not know him, then you easily knew of him.  He had a big heart and enjoyed finding connections with strangers, to which, he would not settle until he was able to share your favorite pop, or candy bar.  David knew that his size and large voice could sometimes frighten toddlers/children, so he would often soften them up with a sucker, treat or money. This was a ritual among his grandchildren as well.
David was not shy to share his story and focused his desire to address the growing need within our community and Alcoholics Anonymous.  AA became a driving force for David, and he knew that this is where he wanted to spend his time and energy.
David is survived by his spouse, Darlene.  Siblings Barbara Pitts, Linda Tharaldson and Douglas (Bunny) Aamold.  Children Kelly Aamold, Rodney (Ellen) Archambeau, Danielle (Eric) Rinehart, along with several grandchildren, great-grandchild, nieces and nephews.
David was preceded in death by his parents, wife Brenda, Brother Donnie, and nephew Michael.