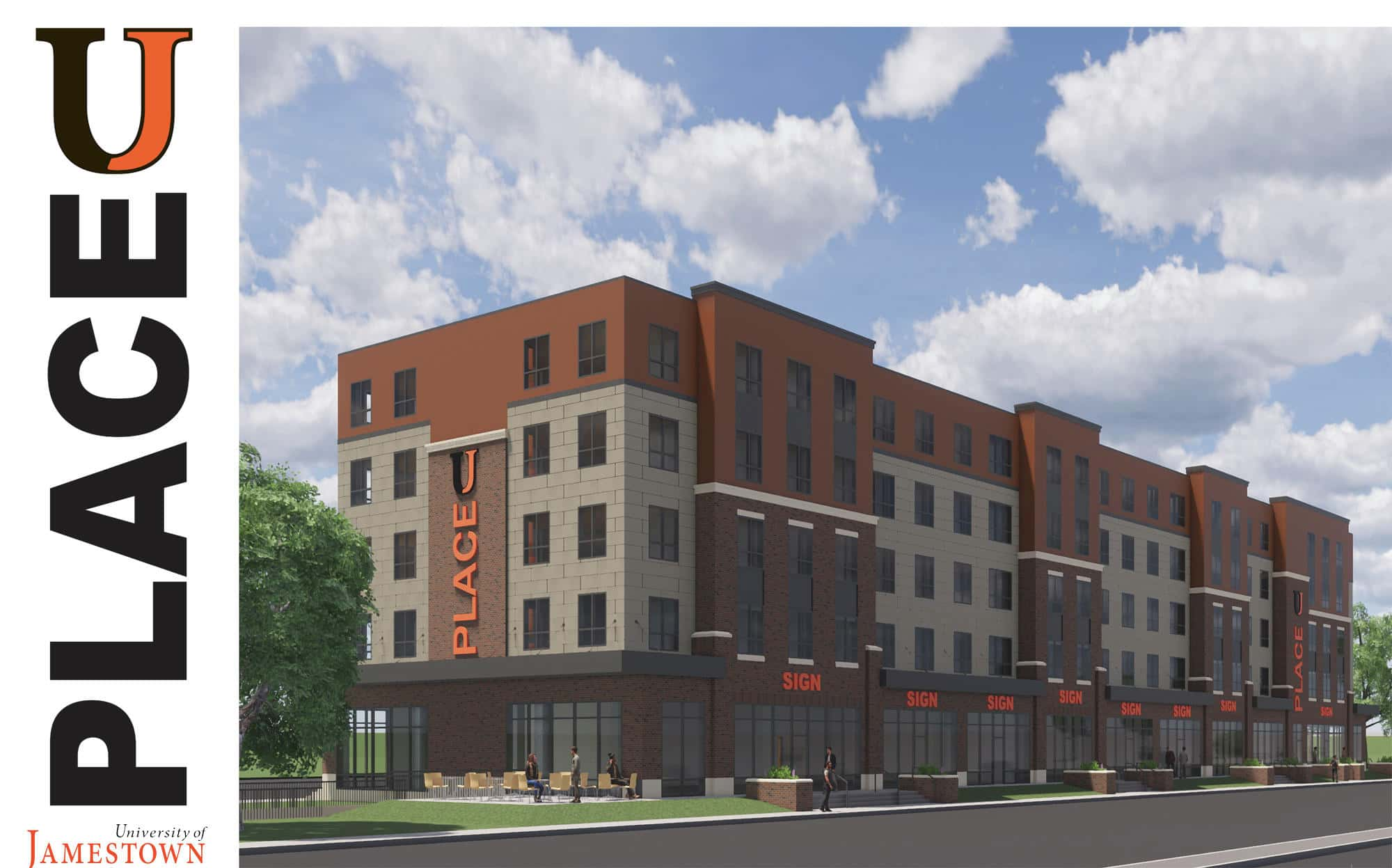 JAMESTOWN, N.D. (NewsDakota.com) – The University of Jamestown and EPIC Companies will be rolling out a mixed-use building on-campus that will be the first of its kind to come into Jamestown.
Development was announced Thursday that UJ Place will be located on the corner of 7th Street and 12th Street NE at 1100 7th Street NE. The development plans including architectural and construction documents are nearing completion with construction to begin July 2019 and plans to open in the fall of 2020.
"This is an exciting opportunity for our students to have access to transitional, apartment style housing on our campus," University President Polly Peterson states. "The added retail options on the main floor is a real bonus for the northeast part of town, said Polly Peterson University of Jamestown President, there is tremendous activity in this area due to the quadrangular impact of the TRAC, JHS, the hockey arena and the Harold Newman Arena."
The building is expected to enhance the area around the development and accommodate future growth at the University. It will have over 13,000 square feet of commercial space and house 112 student beds.
"The primary goal is to focus on student housing for the university and give older students that are juniors and seniors a close place to live," a release from EPIC Companies states. "A mixed-use building caters to the ever demanding lifestyle that attracts young professionals to live, work, and play all in the same area."
EPIC Companies will develop the project, they have worked on developing multiple mixed-use buildings around the area including projects in Minot, Bismarck, and West Fargo North Dakota along with projects in Moorhead and Detroit Lakes Minnesota. This will be there first project in the community of Jamestown.
"As we begin construction on UJ Place, it's been important to see how the community takes pride in such a development," said McKenzy Olson, VP of Marketing and Public Relations at EPIC Companies. "A mixed-use building not only provides living opportunities and enhances the vertical landscape, it also brings commercial opportunities that weren't there before."
An investor social has been set for May 29th at Harold Newman Arena in Jamestown and June 6th at the DoubleTree by Hilton in West Fargo.
For more information about phases and space available, visit epiccompaniesnd.com or call 701-866-1006.
President Dr. Polly Peterson and McKenzy Olson, VP of Marketing and Public Relations for EPIC Companies, will both join Warren Abrahamson on Let's Talk About It Monday on ESPN Jamestown.
Cover photo courtesy of the University of Jamestown