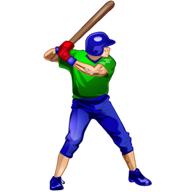 STEELE, N.D. (NewsDakota.com) The 2019 Class B Region III High School Baseball tournament kicked off on Monday with four games at Pirate Field, here are the results:
No. 2 Sheyenne/New Rockford 10  No. 3 Kidder County 7
The Wolves scored the first two runs of the game in the top of the first inning, then the Black Sox poured on five runs in the bottom of the fourth inning to take a 5-2 lead. Kidder County would counter with four runs of their own in the top half of the fifth, but SNR would add two runs in the home half of the fifth and three more in the home half of the sixth to secure the victory 10-7 in the first game of the day.
No. 1 Carrington 1  No. 4 Midkota/Dakota Prairie/Lakota/Griggs County Central 0
Starting pitcher Jake Avdem struck-out 14 Cardinals batters but it wasn't enough as Carrington scored their one and only run in the bottom of the fifth inning and held the Mustangs scoreless. Drew Page picked up the victory on the mound working five and a third innings, Kyle Leapaldt worked an inning and two-thirds in relief.
Midkota/DP/GCC/L 3  Kidder County 0 (elimination game)
The Mustangs scored one run the top of the first inning and added some insurance runs in the top of the seventh to secure the victory and end the Wolves season at 3-9 overall. Senior Isaac Smith was the winning pitcher, Blake Pfaff took the loss.
Carrington 10  SNR 0, 6 innings (semifinal)
Senior Kyle Leapaldt pitched a one-hit shutout as the Cardinals roll past the Black Sox in the first semifinal. Brandon Larson hit a solo home run in the bottom of the third inning for his second this season, both at Pirate Field. Bo Belquist suffers the loss.
Tuesday's schedule: moved up 2 hours earlier because of possible weather moving in:
10am – Midkota/DP/L/GCC vs. SNR (second semifinal and elimination game)
1230pm – Carrington vs. winner of 10am game (championship)
3pm – second championship game (if Carrington loses first championship game)
All games on AM 1600/FM 100.1 KDAK the Cardinal and newsdakota.com, starting about 9:50am pregame.