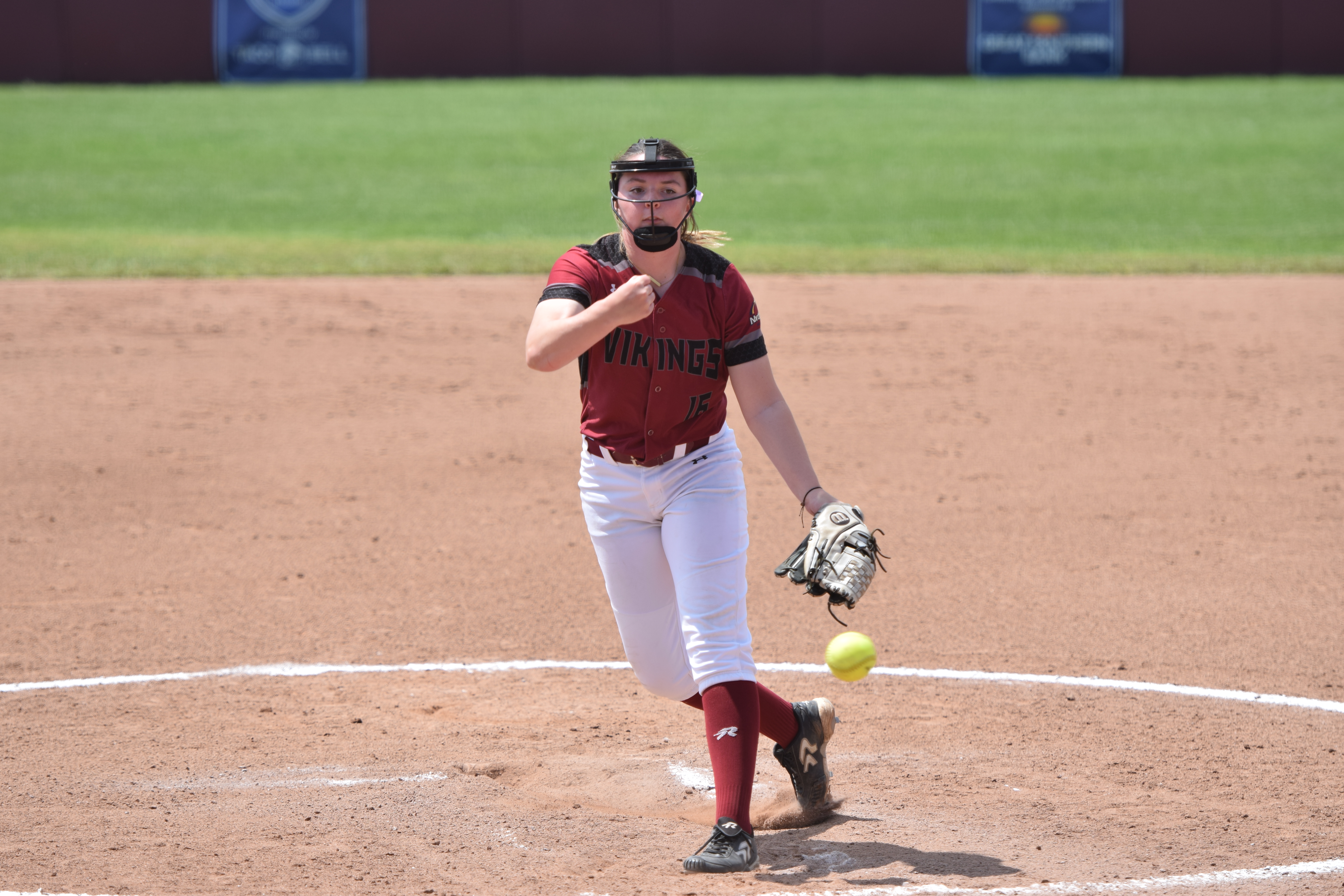 SPRINGFIELD, MO. – Valley City State's 21-game winning streak came to a halt Friday during the first round of the NAIA Softball World Series. The No. 6-seeded Vikings were unable to solve No. 3 Oklahoma City's pitching as Valley City State dropped a 4-0 contest to the Stars.
Oklahoma City's Jaden Shores allowed just one hit as she pitched a complete-game shutout, carrying the Stars into the next round.
Valley City State University (54-4) drops into loser-out play and will take on Oregon Tech at 9:30 p.m. Friday. If VCSU wins that game they would play again Saturday at 7 p.m. If VCSU loses Friday night, their season would be over. Oregon Tech is the tournament's No. 10 seed and lost its opening game 3-2 against No. 7 Mobile (Ala.).
Oklahoma City (58-6) – a 10-time national champion – advances to a winner's bracket game Saturday at 1 p.m.
World Series Schedule & Results
VCSU pitcher Emilee Wilson and Shores both put zeroes on the board early in the game. Neither pitcher yielded a hit through the first three innings as each faced the minimum number of batters through three.
The Vikings thought they had a hit to lead off the fourth inning in a scoreless game, but after Joelle Aiello lined a single to the outfield she was called out for stepping out of the box as she hit the ball. In the bottom of the inning, the Stars finally broke through with the top of their order. Kennedy Jackson led off the inning with a sharp single up the middle. Jaci Smith – the NAIA leader in home runs and RBIs – then lined a triple to right-center, just beyond the reach of a diving Tatum Lundin, that scored Jackson for the first run of the game.
Smith later came in to score on a ground ball to shortstop, sliding under the tag of VCSU catcher Jayme Menard – to the disagreement of VCSU's coaches and fans. The Stars would tack on a third run in the inning after a sacrifice bunt, passed ball and wild pitch brought Baileigh Loux around from first base to home plate. Oklahoma City added an insurance run in the fifth after a walk, sacrifice bunt and two soft singles plated a run for a 4-0 lead.
VCSU senior Tatum Lundin broke up Shores' no-hitter with one out in the sixth inning, lining a double to right-center field, but she was stranded at second base and Shores worked out of the threat. That was one of just three baserunners that VCSU would manage in the game. Riley Perryman and Marissa Hawkins both reached on a two-out walks in the top of the seventh inning before Shores ended the game with a strikeout.
Wilson took the loss after going the distance for VCSU. The freshman right-hander allowed five hits and four runs in six innings of work. She walked three and struck out one.
Tatum Lundin finished 1-for-2 with a double, recording VCSU's only hit in the game.
Shores gave up the one hit, walked two and struck out five over her seven innings. Kennedy Jackson went 2-for-3 with a run and an RBI to lead Oklahoma City. Jaci Smith was 1-for-3 with a run and RBI.
Up next: Valley City State puts its season on the line Friday night with a 9:30 p.m. loser-out game against No. 10 seed Oregon Tech.
(Pictures and Story Courtesy Mark and Cora Potts VCSU)

Vikings At World Series