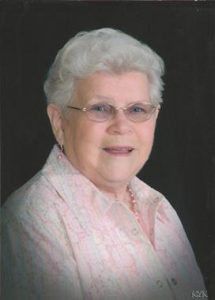 Elaine Hoffart, 91, Valley City, ND, passed away on June 1, 2019 at the Sheyenne Care Center in Valley City while surrounded by her family.  The funeral mass for her will be celebrated on Thursday, June 6, 2019 at Sacred Heart Catholic Church, Sanborn, ND at 10 AM.  Visitation will be held there on Wednesday from 5-7 PM with a Rosary and prayer service beginning at 7.  Burial will be in the Sacred Heart Cemetery, Sanborn.
Elaine was born July 1, 1927 in Sanborn, ND to Alfred and Gertrude (Hovland) Hansen.  She graduated from Sanborn High School then worked at JCPenney's.
On November 13, 1947, she married Leonard Hoffart at the Sacred Heart parish house in Sanborn.  They farmed in Mansfield Township for 32 years and raised 7 children.  In 1978, they moved into Sanborn and into a brand new home, which she'd dreamed of having for years.
She was a charter member of the American Legion Auxiliary.  She was very proud of that organization and was honored to hold every chair.  Memorial Day was never forgotten in the Hoffart household.  She was also a member of the Valley City Eagles and VFW Auxiliaries and belonged to the Red Hat Society.
Elaine was active in her church, where she was a member of Circle 4.  She wrote the Sanborn news for the Times Record for a number of years.  Everyone enjoyed reading her column.
When she moved to Valley City, she took the job of helping the elderly.  She would pick them up and take them to appointments or wherever they would need to go.  She loved to read and would read to those that couldn't see well anymore.  Elaine enjoyed doing puzzles.
Her life was devoted to her husband, children and grandchildren.  She was a faith loving and beautiful woman.  Elaine will be missed by her children, Darlene Aamold, Jenny (Morgan) Heimark, Connie (Wayne) Becker, Sue (Lenny) Hoffart, Melodie (Bob) Peahl, Marietta (Bob) Podoll, Laurie (Todd Jorissen) Lettenmaier; 9 grandchildren; 11 great grandchildren; sisters, Almira Klien and Mary Smith; brothers, Kenny (Jeanie) Hansen and Albert (Sally) Hansen; sister-in-law, Ardis Larson; and many nieces and nephews.
She was preceded in death by her husband, Leonard; son, Lenny; parents, Alfred and Gertrude; and 4 siblings.
Lerud Mathias Funeral Home is assisting Elaine's family with arrangements.  An online guestbook is available at www.lerudschuldt.com