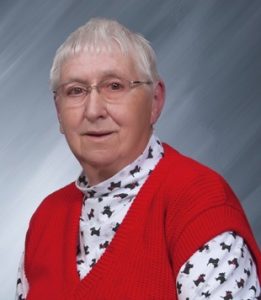 Genevieve "Ginger" Mae (Schwehr) Kjelland, 83, went to her celestial home and heavenly forever place on May 31, 2019, surrounded by family at CHI Mercy Health in Valley City, ND. Ginger's visitation will be held from 5-7 p.m. on Wednesday evening, June 5, with a prayer service to follow at 7:00 p.m. at Lerud-Mathias Funeral Home in Valley City. The funeral for Ginger will be at 2:00 p.m., Thursday, June 6 th, with visitation beginning at 1:00 p.m. at St. Catherine Church in Valley City.
Ginger, daughter of Robert and Mary (Deardorff) Schwehr, was born July 25, 1935 at Mercy Hospital in Valley City. She grew up on the family farm northwest of Sanborn, North Dakota. She attended Bower one-room school in Anderson township and later St. Catherine School in Valley City through her freshman year. She graduated high school with her GED on March 29 th , 1986.
Ginger and Curtis Kjelland were married on Sept. 28 th , 1953 at Sacred Heart Church in Sanborn. They made their home and raised their three sons: Thomas, Gerald, and Robert in Valley City.
Ginger worked at Red Owl Grocery store, ACE Hardware, and Dietrich's Bus Service delivering
buses across the country, and she especially enjoyed driving school bus with students who she considered her bus route family. She also drove bus for the Bismarck Legion baseball team and charter buses for plant workers at the electric power plants near Beulah.
Ginger lived a life of adventure that included bareback riding and standing on her horse, Trigger, when she rode by the Kronebusch residence on her way to Sanborn. She enjoyed motorcycle riding, road trips with family, and traveling to visit family and friends. However, golfing with her loved ones was her main passion.
Ginger found pure joy in her dogs: Pixie, Buffy, Snicker Doodle, Twinkle Toes, Snuggy Bug, Snowflake and Hick-Up.
Ginger was a woman of deep faith. She always made sure that her children were raised with a Christian background. As a devout Catholic, Ginger regularly attended Rosary services and Mass at the Sheyenne Care Center, usually with a front row seat. She was also thrilled when she could go back to St. Kates for mass in the church.
She was preceded in death by her husband, Curtis; her parents, Robert and Mary; several uncles, aunts, brothers-in-law and sisters-in law.
Ginger is survived by brothers: James Schwehr Sr., Hamilton, MT, John (Adeline) Schwehr, Sanborn, ND; sister:  Marianna (Don) Rumer, Wimbledon, ND; sister-in-law:  Dolly (Ken) Hoelmer, Valley City, ND; son: Tom (Nichola) Kjelland, Valley City, ND, their children: Leonard Kjelland, Grand Forks, ND, Benjamin Kjelland (Amanda), Valley City, ND, Katelyn Kjelland, Dover, DE, Mariah (Adam) Edland, Bismarck, ND, Natalie Monilaws (Jordan) ,Bismarck, ND, son: Jerry (Sherry) Kjelland, Fargo, ND: their children: Justin, Kyle and Alex (Ashlynn) Kjelland, all of Horace, ND, son: Robert (Maria) Kjelland, Milliken, CO, their children: Amanda (Eric) Magnuson, Brandon, MN, Elysse (Dan) Beeson Shakopee MN, Chelsey (Adam) Hanson Fargo, ND, and 12 great grandchildren.
Burial will be at Sacred Heart Cemetery in Sanborn, ND.
The Lerud Mathias Funeral Home is assisting Ginger's family with arrangements.  An online guestbook is available at www.lerudschuldt.com