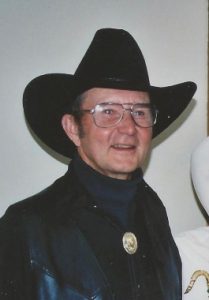 Franz "Skip" Duane Pedersen was born December 19th, 1943 at Mercy Hospital in Valley City to Franz and Norma (Jackman) Pedersen.  He attended Brown Elementary Country School and graduated from College High School in 1961.  Then he attended North Dakota State College of Science in Wahpeton, ND, earning a degree in printing in 1963.  Later in life, he attended Valley City State University graduating in 1988 with a degree in social work.
Skip was a member of the North Dakota National Guard from 1964 until he retired from the guards in 1998.  He also worked as a press man for the Times Record, as a licensed electrician for Larry's Electric and Enterprise Electric until retiring at the age of 62.
He enjoyed dancing, hunting, and flea marketing.  He taught hunter safety for 36 years and was a member of AA for 41 years.  He was a member of St. Paul's Lutheran Church of Valley City, the VFW, and the American Legion.
On May 31, 1996, he married Patricia "Pat" Clewell Meester.  He was honored to have gained four step children, 13 grandchildren, and 12 great grandchildren and loved them all dearly.
Skip passed away at Mercy Hospital on June 1, 2019 at the age of 75.  He is survived by his wife, Pat; a sister, Fran Nelson; brother, Norm Pedersen; sister-in-law, Mary Jane Clewell; stepchildren, Veronica (Raymond) Johnson, Donita (Shane) Johnson, Rhonda (Earl) Bostic, and Tom (Sarah) Meester; 13 step grandchildren; 12 step great grandchildren; as well as many nieces and nephews.
He was preceded in death by his grandparents; mother and father; mother and father-in-law; sister, Betty Risser; sister-in-law, Betty Jo Pedersen; nephew, Guy Risser; and brother-in-law, Stanley Nelson.
Skip Pedersen, 75, Valley City, ND passed away at Mercy Hospital in Valley City on June 1, 2019.  Visitation will be held on Monday, June 10, 2019 from 5-7 PM with a prayer service beginning at 7 in St. Paul's Lutheran Church, Valley City.  The funeral service will be on Tuesday, June 11 at 2 PM in Grace Free Lutheran Church, Valley City.   Burial will be at the ND Veteran's Cemetery, Mandan, ND and will take place on Wednesday, June 12 at 2 PM.
Lerud Mathias Funeral Home is assisting Skip's family with arrangements.  An online guestbook is available at www.lerudschuldt.com