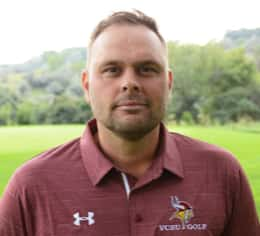 Jamie Ray Paurus, 38, Valley City, ND passed away unexpectedly on June 10, 2019 in Dickinson, ND. He was born on October 15, 1980 in Detroit Lakes, MN.  He is the son of Sherri Schaefer and Steve Halstengaard and Clarence and Marcella Paurus.
Jamie graduated from Frazee High School in 1999 and then attended NDSU graduating with a Masters in Business Administration in 2005. Jamie worked for VCSU in serving as a professor and department chair of the CSSE program and as Golf Coach. On July 20, 2012, Jamie married Kelsey Hanson of Willmar, MN.  
Jamie is survived by his wife, Kelsey (Hanson) Paurus; children: Carver (12) Berkley (5), and Azalea (2); grandparents, Clarence and Marcella Paurus of Wolf Lake, MN; mother Sherri Schaefer of Wadena; father Steve Halstengaard and wife, Cathy of Detroit Lakes; brother Brian Halstengaard and his wife Kristy of Detroit Lake, MN, sister Tiffani Ruiz and her husband Ryan of Frazee, MN and Paurus Aunts, Uncles, and Cousins. Jamie is also survived by his in-laws Tom Hanson, Mary Hanson & Mark Malam of Willmar, Travis Hanson of Paynesville, Sarah, Dan, and Katlyn Malam of Hopkins, MN.
A visitation service will be held at the Oliver-Nathan Funeral Home in Valley City, ND from 4-6 p.m. on Saturday, June 15.  A Celebration of Life service will be held at the W.E. Osmon Fieldhouse, Valley City State University Campus on Sunday, June 16 at 7 p.m. The family asks in lieu of flowers, memorials may be directed to his children's education fund.
Funeral arrangements have been entrusted to the care of the Oliver-Nathan Funeral Chapel, Valley City. An online guestbook is available at oliver-nathanchapel.com