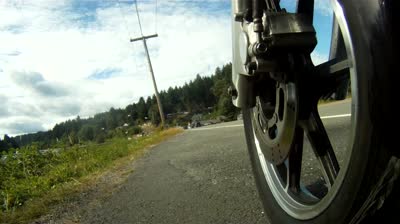 JAMESTOWN, N.D. (NewsDakota.com) – Summer months are prime for motorcycles to hit North Dakota highways and byways.
With that in mind, motorists and motorcyclists alike are being encouraged to practice safety and be mindful of each other when sharing the road.
Lonnie Bertsch is with the Motorcycle Safety Program and Executive Director of ABATE of North Dakota. Bertsch says when motorcycles are out on the road, they have much less protection, even when they're equipped to ride.
According to the North Dakota Department of Transportation, 210 motorcycle crashes occurred in 2018. This resulted in 16 fatalities and 166 injuries. This equates to a motorcycle crash every 1.7 days.
And even more motorcycles are hitting the road. Over the past 10 years, the number of motorcycle licensed drivers in North Dakota has increased 36%.
Bertsch says the ABATE program is helping riders both new and experienced with courses around the state.
Bertsch says those who go through the course are better able to maneuver state roads. Jamestown will have the ABATE course beginning June 17th through the 22nd. Five classes for beginners and one for experienced riders will be held at the Jamestown Civic Center.
Motorcycles will be provided for those who don't have one or don't want to use their personal bikes. You can visit ndmsp.com or call 701-223-5609 for more information.
Listen to a full Let's Talk About It with Lonnie Bertsch below: