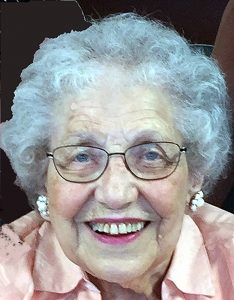 The funeral service for Dorothy D. Kjelland, 94, Valley City, ND will be Monday, July 1, 2019 at the Lerud Mathias Funeral Home Chapel, Valley City at 2:00 PM.  Visitation will be on Sunday from 5-7 PM with a prayer service beginning at 7. Burial will be in the Zion Lutheran Cemetery, rural, Valley City. Dorothy passed away at Mercy Hospital in Valley City on June 27, 2019 while under the care of CHI Health at Home Hospice and Mercy Health nursing staff.
Dorothy Delaine Senrick was born July 16, 1924 in Winona, MN to George and Lydia (Ronnenberg) Senrick.  She attended rural school near Winona. At the age of 16, she moved with her family to Valley City, ND. Her father managed the Checker Lunch Café where Dorothy was working when she met her future husband, Allan H. Kjelland.
On May 25, 1945, Dorothy and Allan were married at Trinity Lutheran Church in Valley City.  They resided in Valley City for nine more years. Allan was a member of the VFW and Dorothy joined the women's VFW auxiliary group the Cootiettes.  In 1954 Al's employment with KW McKee Transport required a move to Farmington, MN. Then another transfer in 1966 took the family to Moorhead MN. Dorothy was active with the Volunteers for Community Service before becoming a Founding Member of the Moorhead Thrift Shop. Under her direction, over a period of 30 plus years, the shop donated over $400,000 directly to local Fargo/Moorhead charities.
Allan passed away on March 23, 2015 and Dorothy moved back to Valley City later that year.  She lived in Bridgeview Estates before entering the Sheyenne Care Center in 2018.
She was a member of Good Shepherd Lutheran Church in Moorhead, MN and was active in her homemaker's group and a birthday club.   Dorothy was a talented artist and took great pride in the rosemaling pieces she painted. Over the years she handmade over 200 teddy bears.  Antique collecting was a pleasure of both Dorothy and Al in their retirement.
Dorothy is survived by her sons, Larry Kjelland of Moorhead, MN and Michael (Sue) Kjelland of Alexandria, MN; daughters, Judy Jay of Valley City, ND and Mary (Scott) Sugden of Anchorage, AK; grandchildren, Bob (Peggy) Jay of Frazee, MN, Andy Kjelland of Telluride, CO, and Erin (Chris) Tombarge of Valley City; step-grandchildren, Colleen (Terry) Johnson of Le Sueur, MN and Shannon (Cathy) Jay of Park Rapids, MN; 5 great grandchildren; 8 great great grandchildren; a brother, Donald (Eleanor) Senrick of Apple Valley, MN; brother-in-law, Arnold Kjelland of Banks, OR; and a sister-in-law, Betty Kjelland Bostrom of Valley City, along with numerous nieces and nephews.
She was preceded in death by her husband; son-in-law, Mike Jay; special grandson, Matt Kjelland; and a sister, Mabel Skaar.
Dorothy will be remembered by all who loved her for her beautiful smile and joy in life. 
Lerud Mathias Funeral Home is assisting Dorothy's family with arrangements.  An online guestbook is available at www.lerudschuldt.com