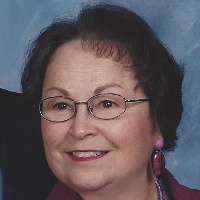 Barbara Ann (Tesky) Glinz went with the Lord to her heavenly home on July 3. She passed away at home with family after a long, courageous battle with Alzheimer's disease. She was under the care of Jamestown Hospital Hospice. The family would like to extend thanks to all of the amazing at-home care-givers and family members and friends, whose loving care gave her many quality years.
Barbara was born on May 1, 1946, in Beulah, North Dakota. Her family moved to a farm near Ypsilanti, where she grew up and developed a love of the land. She graduated from Montpelier School in 1964 and attended Jamestown College for 1 year. She married David Glinz on November 5, 1965, and they enjoyed 53 years of marriage. Barbara was devoted to the Lord and to her family. She served many years as Sunday school superintendent at Atonement Church, and was a founding member of New Hope Free Lutheran Church. She cheerfully and energetically volunteered in her children's schools, church youth groups, and swim teams. She chaperoned many church youth trips, even after her own children had graduated, and she arranged the logistics for swim team travel for competitions. She made wonderful clothes and outfits by hand for her children. She loved to host family gatherings, and the pies and Christmas punch she made for church and charity benefit sales were always much-anticipated. Barbara was very gregarious and social. More than forty years ago, Barbara started bridge and pinochle clubs to benefit charities, which are still active now. She also loved down-hill skiing trips with family and friends. One of her greatest joys was sharing good stories. Barbara loved North Dakota and its natural beauty. She was proud to farm with David, playing an essential role in the family farm operation. Although she played a critical role in Glinz Transfer and in the grain storage operations, the family farm was her first love, and she very much enjoyed combining every year. She attended the Fort Seward Wagon Train every year for decades, often walking the full 80 to 100 mile route. She also served many years on the Wagon Train's board of directors. She was admired for her artistic abilities and freely volunteered her drawing and calligraphy skills. Whatever Barbara did, she did with full commitment and tremendous talent.
She was preceded in death by her parents, Jacob and Catherine Tesky; daughter, Cresta; son, Shaun; father-in-law, Arvel Glinz; brothers-in-law, Bruce Glinz and Tom Quinn; sisters-in-law, Elaine Tesky and Jane Esper.
She is survived by her husband, David; daughter, Sasha (Tony) Minihan; daughter, Marvel (Joel) Vander Kooi; seven grandchildren, Kyler, Conner, Anish, Daisy, Kirsten, Hezekiah, and Jasper; daughter-in-law, Julene (Brian) Steidl; sisters, Rosella Quinn, Judy (Ken) Frey, Linda (Terry)
Schwartz; brothers, James (Eva) Tesky, Ernest Tesky; brother-in-law, Tim Elhard; mother-in-law, Marjorie Glinz; sisters-in-law, Kathy (Bryan) Sundsbak, Nancy (Lyle) Williams, Cecilia Glinz; and many nieces, nephews, and grand nieces and nephews.
Her cheerful voice, her love, and her grace will be greatly missed.
Visitation will be at New Hope Free Lutheran Church from 4:00 to 6:00 p.m., Sunday, July 7, followed by a prayer service.
Funeral service will be held 11:00 a.m., Monday, July 8, at New Hope Free Lutheran Church. Arrangements are in the care of Williams Funeral Home, Jamestown.
Memorials may be sent to Hope International Schools. Barbara's daughter, Marvel, and her family established HIS in 2008 after they witnessed the plight of vulnerable children in Southeast Asia. God gave them a vision for Christian schools to break the cycle of poverty and oppression. HIS was founded to plant schools in the developing world; the first is the School of Promise in Thailand. Memorials can be sent to: Hope International Schools, PO Box 17100, Colorado Springs, CO 80935. www.WeAreHIS.org