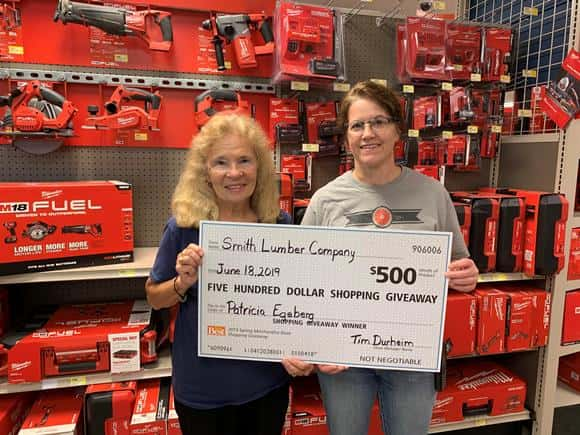 VALLEY CITY, N.D. (NewsDakota.com) – The spring season got a little more exciting for Smith Lumber Company and Eileen Winning and Pat Egeberg.
Eileen and Pat were selected at random out of approximately 4,000 entries at Smith Lumber Company for the $500 Shopping Giveaway. Entries were submitted between February 18 and May 31, 2019.
Pat Egeberg was very excited to win and had so much fun picking items that she needed, like a Channellock shop vac, weather forecaster station, lawn care items, trash cans, and many other common use items. She was so grateful for the timing of the drawing.
Eileen Winning said "that's a lot of money to spend!" She knew exactly what she wanted, a dehumidifier and an outdoor patio set.
Both winners are regular shoppers at Smith Lumber Company. "It is so fun when the winners are familiar faces," says Brenda Durheim of Smith Lumber. We thank all those who entered the giveaway for their participation.
Smith Lumber Company is located at 1525 East Main Street in Valley City, North Dakota and has been serving area customers for 5 years at this location.
Smith Lumber Company has been a member of Do It Best since 2014. Do It Best is based out of Fort Wayne, Indiana and is the only full-service U.S. based, member owned comprehensive and fully integrated hardware, lumber, and building materials buying cooperative in the home improvement industry. With annual sales nearing $4 billion, Do It Best Corp. is the fastest growing co-op in the industry, serving thousands of member-owned locations across the United States and in more than 50 other countries.

Smith Lumber Winners