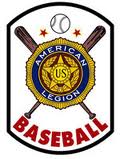 JAMESTOWN, N.D. (NewsDakota.com) – Mother Nature had a say in how many games would be played on Saturday at the Phil Brown Classic at Jack Brown Stadium in Jamestown. It was supposed to be three, she stopped in at 1-plus.
The second game of the day between Carrington and Aberdeen was called after five innings with the Smitty's up 11-5 due to rain and the final game of day 1 between Jamestown and Aberdeen was called due to poor field conditions.
GAME 1: Jamestown 5, Carrington 4 F/8
Connor Hoyt's suicide squeeze scored Kohl Kratz from third break a 4-4 tie in the eighth lifting Post 14 to the 5-4 win over Carrington.
Kratz led off the inning with a single. He stole second and went to third on a ground out. Then Hoyt layed down and perfect bunt down the first base line. Pitcher Kyle Leapaldt tried to field the ball and tag Hoyt but couldn't hold on to the ball.
Chris Erickson had a single and two rbi for Jamestown as did Hoyt. Kratz had two hits. Dawson Douty, Tommy Falk, Ethan McKenney and Jeremy Williams had the hits for Jamestown.
Leapaldt had three of the four hits for Post 25. He scored one and drove in one. Brandon Larson had the other hit for Carrington.
Hoyt picked up the win giong three shutout innings in relief. He allowed two hits with a walk and three strikeouts.
GAME 2: Aberdeen 11, Carrington 5 F/5
Drew Geier had two rbi double and Cole Sippel capped a five run fifth with a two run single lead Aberdeen to the win.
Carrington got a run back on Austin Trelstad's bases loaded walk. By the time the inning was over the rains here coming down heavy. After an eight minute wait, the game was called and because of the wet grounds and poor field conditions, the final game of the day with Jamestown and Aberdeen was cancelled.
Aberdeen scored four runs in the second inning to take a 4-2 lead. 
Carrington would tie it at four on Kyle Leapaldt's long two-run home run in the third.
But the first six batters for Aberdeen reached base in the fifth with Sippel's hit the last one and made it 11-4.
SUNDAY'S NEW SCHEDULE
Jamestown vs. Aberdeen 11:00am
Carrington vs. Aberdeen 1:00pm
Jamestown vs. Carrington 3:00pm
Both Jamestown games will be heard on ESPN 1400AM. The Carrington game will be on 1600 KDAK The Cardinal.  All three games will be on newsdakota.com