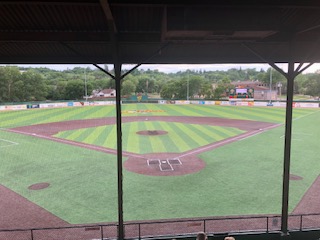 MINOT, N.D. (NewsDakota.com) – Timely hitting and great pitching lifted Jamestown to a doubleheader sweep the Minot Metros in the regular season finale for both teams at Corbett Field in Minot Wednesday afternoon.
In game one, Dawson Douty scattered seven hits and got help from his defense for a complete game win. The right-hander allowed one earned run over seven innings. He did not walk a batter and struckout six. Jamestown took game one 2-1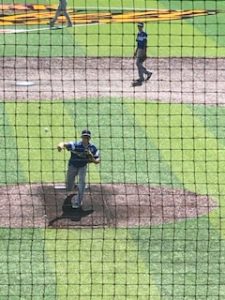 The defense turned two double plays to get him out of the first and second innings. In the second inning, with runners at first and third and one out and Minot up 1-0, Landon Halseth hit a soft liner the tipped off the glove of Douty and was caught by a diving Gage Orr behind the mound. Orr threw to third but the runner got back safely, the runner at first was still at second not knowing the ball was caught, third baseman Isaac Mimong threw across the diamond to first forthe easy inning-ending double play.
The offensive scored both runs in the top of the fourth when Aaron Kleven hit a line drive into right field with two out and the bases loaded to score Ethan McKenney and Kohl Kratz.
That was more than enough for Douty who retired nine of the last eleven batters he faced to end the game.
Eight different Post 14 players had at least one hit in the win.
In game two, Jamestown jumped out to an 8-0 lead after three innings and cruised to the 9-2 win.
Jamestown only had six hits but took advantage of five Metro errors. Tommy Falk had an rbi triple and Isaac Mimong drove in arun with a double in the three run first. Both would drive in runs in the second as well. Falk on a sacrifice fly and Mimong on a bases loaded walk.
Two runs scored on one error in the third and Kohl Kratz added a sacrifice fly in the fifth.
Falk allowed two unearned runs and five hits in seven innings.He walked two and struck out four. Offensively, Chris Erickson and Mimong had two hits each.
With the two wins, Jamestown finishes the regular season 12-2 in the West Region and 15-10 overall. They will be the top seed in the West Region tournament back in Minot. They will face eight seeded Dickinson at 11:00am in the tournament opener.