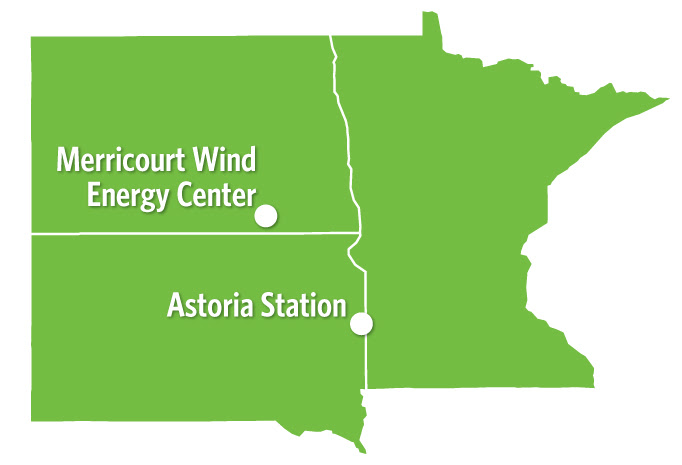 FERGUS FALLS, MN (NewsDakota.com) – Otter Tail Power Company marked a major milestone in the future of its generation resources with two projects that recently began construction.
The Merricourt Wind Energy Center is a 150-megawatt (MW) wind generation facility in southeast North Dakota. Astoria Station is a 245-MW simple-cycle natural gas combustion turbine in east central South Dakota.
The Merricourt Wind Energy Center and Astoria Station are part of the company's commitment to low-cost, reliable, and increasingly clean generation resources.
"We project that by 2022 our customers will receive 30 percent of their energy from renewable resources and our carbon emissions will be at least 30 percent below 2005 levels—all while keeping rates nearly 30 percent below the national average," said Otter Tail Power Company President Tim Rogelstad. "The Merricourt Wind Energy Center and Astoria Station are catalysts of these 30 percent trajectories."
Wind and natural gas resources complement one another
Construction of the Merricourt Wind Energy Center began today. The company expects the 15-month construction process to create more than 150 jobs and provide millions of dollars in economic benefits to the local area. The project will cost approximately $270 million, generate enough energy to power more than 65,000 homes, and add 10 permanent jobs to the local economy. The project includes 75 Vestas wind turbines and covers approximately 14,000 acres of land. Wanzek Construction based out of Fargo, North Dakota, will construct the wind center. The Merricourt Wind Energy Center will be the largest capital project in Otter Tail Power Company's history.
"Our North Dakota service area has some of the best wind resources in the country to produce low-cost energy," said Rogelstad. "North Dakota's diverse and abundant generation resources help to ensure the price our customers pay for reliable service remains among the lowest in the nation. And, North Dakota's energy development leads to investments, jobs, and tax revenues that many other states can only envy."
Construction of Astoria Station began in May. The station will have flexible operating options—providing energy during periods of high demand—with low emissions. The company will invest approximately $158 million in the project, which it expects to complete in 2021. During the 13-month construction period, the company estimates the project will create an average of 50 construction jobs, with a peak of 70 during the height of construction. That equates to approximately $30 million in construction labor costs. And, when complete, the station will require two to three full-time employees to operate it.
"Astoria Station complements our wind resources by providing a reliable backstop when the wind isn't blowing," said Rogelstad. "Backing wind with natural gas captures the low-cost energy made possible by the current market for wind generation while helping to ensure sufficient reliability from dispatchable generation."
Rogelstad also commended South Dakota's supportive business climate and noted support for Astoria Station from the Governor's Office of Economic Development, under the Reinvestment Payment Program. "We're grateful that our customers ultimately will see lower energy costs from Astoria Station due to this excellent program," said Rogelstad. "The program played a significant role in our selection of the site."
The wind and natural gas resource additions are part of the company's plan to meet customers' future energy needs, replace expiring power purchase agreements, and prepare for the 2021 retirement of the 1950s-era 140-MW coal-fired Hoot Lake Plant in Fergus Falls, Minnesota.
"Partnerships with state and federal agencies and the communities we serve have guided us on our path. Our customers' needs have been at the forefront of our decision-making," said Rogelstad. "And, today, we're seeing years of planning and innovating come to fruition."