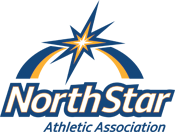 MADISON, S.D. (North Star Athletic Association)– Viterbo (Wis.) is the coaches' pick to win the 2019 North Star Athletic Association (NSAA) volleyball conference title, the conference office released its volleyball preseason poll. It is the fifth consecutive year that the V-Hawks are predicted to win the league title. 
VU picked up seven first-place votes and earned 63 points to claim the top spot in the conference preseason poll. Viterbo finished their 2018 season with an overall record of 33-8 and 13-1 record in conference play. The V-Hawks won the NSAA regular-season and post-season titles and advanced to the NAIA national tournament's semifinals. VU finished with a No. 3 ranking in the final NAIA volleyball 'Top 25' national poll. 
Bellevue (Neb.) picked up the final first-place vote and tallied 53 points to finish second in the poll. The Bruins qualified for the NAIA volleyball national tournament last season, falling in the opening round and finished with an overall record of 23-12 and 11-3 in North Star conference contests. 
Dakota State (S.D.), who handed Viterbo its first-ever North Star conference contest defeat in 54 matches (VU is 53-1 record in conference play since joining the NSAA conference), was picked to finish third with 50 points. The Trojans made their first appearance in the North Star postseason conference tournament's championship match last season. 
Valley City State (N.D.) tallied 39 points to finish fourth, followed by Mayville State (N.D.) fifth with 30 points. Presentation (S.D.) edged Waldorf (Iowa) by two points to finish sixth (20-18). Dickinson State (N.D.) finished eighth with 14 points. 
All NSAA members will be playing a 14-match schedule (7 matches at home and 7 matches on the road). The conference season officially kicks off on the weekend of Friday, Sept. 20 and Saturday, Sept. 21. The final NSAA regular-season match is set for Wednesday, Nov. 6 (PC at MSU and WU at VU) and Friday, Nov. 8 (BU at DaSU and VCSU at DiSU). 
The top six teams will qualify for the North Star 'Super Six' conference postseason tournament on Nov. 15-16. The postseason tournament is scheduled to take place at the Civic Arena in Watertown, S.D. 
The NSAA postseason tournament's champion will receive an automatic bid to the NAIA Volleyball National Tournament. The national tournament opening round is slated for Nov. 23 at campus sites, with each opening round winners advancing to the NAIA Volleyball National Tournament in Sioux City, Iowa on Dec. 3-7. 
Below is the complete list of the 2019 NSAA Volleyball Preseason Coaches' Poll below: 
First place votes in parenthesis followed by total points
1 Viterbo (Wis.) (7) 63
2 Bellevue (Neb.) (1) 53
3 Dakota State (S.D.) 50
4 Valley City State (N.D.) 39
5 Mayville State (N.D.) 30
6 Presentation (S.D.) 20
7 Waldorf (Iowa) 18
8 Dickinson State (N.D.) 14