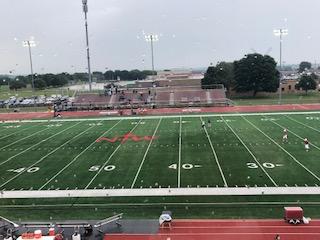 ORANGE CITY, IOWA – The Valley City State football team suffered a road loss at the No. 11 team in the country Saturday afternoon, falling 47-7 at Northwestern College.
The Vikings drop to 1-1 after the non-conference loss Saturday. Northwestern College, which advanced to the NAIA playoffs last season, improves to 1-0 on the year.
The Vikings and Red Raiders played to a scoreless tie after the first quarter Saturday, but Northwestern broke the game open with 28 points in the second quarter – including a 94-yard interception return to end the half.
Valley City State scored its lone touchdown in the fourth quarter when Louis Quinones broke off a 44-yard touchdown run to put the Vikings on the board.
The Vikings did rack up 323 yards of total offense in the game, including 198 on the ground and 125 through the air. Northwestern finished with 429 yards of offense, 230 of which came through the air.
After rushing for 249 yards last week, Louis Quinones had another big performance Saturday as he racked up 184 rushing yards and the touchdown for VCSU. Kellen Kessler led the receiving corps with 57 yards on five catches, while Jacob Gottenborg had 54 yards on three catches. Quarterback Jalen Pfeifer went 11-for-27 for 125 yards and an interception.
Andrew Hanretty had eight tackles for VCSU's defense while Dustin Kasowski racked up seven tackles. Both Brandon Elton and Arron Martin had six tackles, and Hunter Olson and Sal Avila each had four tackles and half a sack.
Up next: Valley City State is back on the road next Saturday, playing a 6 p.m. game at Minnesota-Morris on Sept. 14.