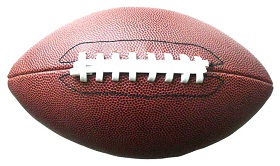 LAMOURE, N.D. (Story submitted by Kyle Hewitt, NewsDakota.com) The fifth ranked Loboes scored 16 points before Griggs County/Midkota (GCM) ran an offensive play and racked up 506 yards of total offense cruising to a 50-26 victory at Townsend Field in the 2019 homecoming game. Loboes junior running back Brett Wendel rushed for 230 yards on 23 carries and scored 3 touchdowns to pace the Loboe offense. Sophomore quarterback Corban Potts completed 9 of 13 passes for 145 yards and 3 touchdowns. Freshman Colton Ness hauled in 4 catches for 66 yards and 2 touchdowns and Garrett Hebl had 3 receptions for 73 yards and a touchdown.
LaMoure/LM (LLM) scored quickly on a Wendel 19 yard run at the 9:18 mark of the opening quarter. The ensuing kickoff was recovered by the Loboes and Potts connected with Ness on an 8 yard TD pass 1:21 later to make it 16-0 LLM. Wendel ran in both 2 point conversions. The Titans would answer quickly on their first offensive play of the night senior quarterback Jore Boote went 65 yards around the right end to cut the lead to 16-6. Boote finished the game with a team high 124 rushing yards on 18 carries and 2 touchdowns. Boote added a 42 yard TD run early in the fourth quarter. Boote completed 7 of 14 passes for 135 yards and 2 touchdowns. Trae Kaelberer caught 3 passes for 82 yards and 2 touchdowns. Hunter Gronneberg also had 4 receptions for 43 yards. Gronneberg led the Titans defensively with 12 tackles.
LLM running back Derek Cecil added 73 rushing yards and a touchdown. The Loboes improved to 3-0 on the year and GCM dropped to 1-2 overall.