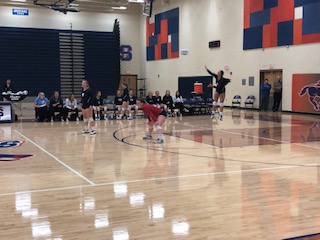 WEST FARGO, N.D.  (NewsDakota.com) –  Valley City had its three match winning streak snapped Tuesday night when West Fargo Sheyenne downed the Hi-Liners in straight sets 25-20, 25-13, 25-16.
Jaydn Feist led the Mustangs with 15 kills, six digs and four blocks. McKenzie Newton had 39 assists, five kills and two digs. Nadia Kranz led the defense with 19 digs and added six service aces.
Cali Halgimson led the Hi-Liners with eight kills and eight digs. Macy Olstad added seven kills and a team high nine digs and three aces. Natalie Lemnus had eight assists and eight digs. Dylann Diegel led the team with ten assists.
The Hi-Liners fall to 3-1 in the EDC and 7-4 overall. Sheyenne is 3-0 in the conference and 8-2 overall. The Hi-Liners travel to Fargo South next Tuesday for an East Region matchup.

Hi-Liners Fall At Sheyenne