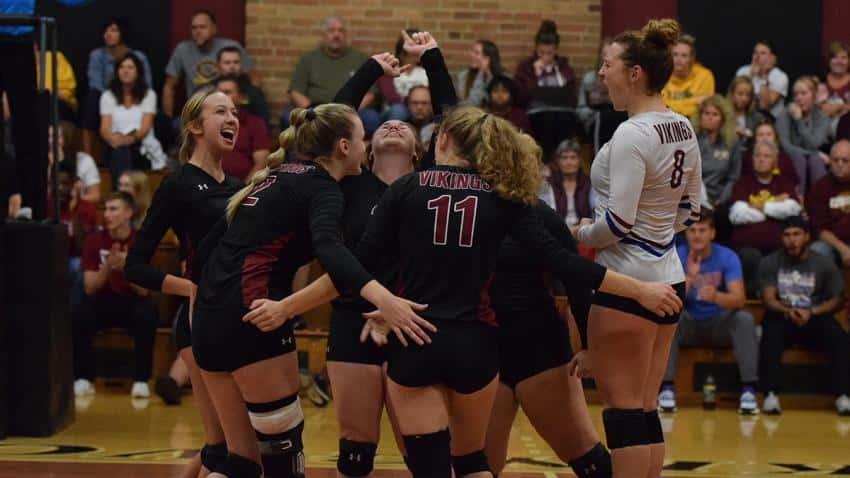 VALLEY CITY – The Valley City State volleyball team took a victory in a five-game thriller Tuesday night against Concordia College-Moorhead.
The Vikings defeated the Cobbers 25-16, 25-15, 20-25, 19-25, 15-11.
Tuesday's victory was just VCSU's second home match of the season, and the Vikings fed off the crowd's energy – especially in the decisive fifth set.
"I don't think there's a greater place to play than in Graichen Gymnasium," said Longmore. "It's just a great atmosphere every night we're at home."
Valley City State took the first two matches handily 25-16 and 25-15. In the third set with the Vikings up 11-9, a Viking error fueled the Cobbers on a 6-1 run to take the lead 15-12. Valley City State would never recover as they fell 20-25 in set three.
"It looked to me like the service errors in that third set dictated how we played most of the rest of the match," said Longmore. "We got them revitalized a little bit between the fourth and the fifth set. I said what I felt I needed to say to get them so they were confident again like the first two sets."
The Vikings battled hard in the fourth set, never trailing by more than four points until a Concordia kill by outside hitter Anna Brakke put the Cobbers ahead 21-16. Concordia went on to win the set, sealed by a Brakke ace serve.
The Valley City State student section was standing throughout the entire fifth set fueling the fire on the court. The fifth set was back-and-forth as the Vikings and Cobbers started out tied 9-9. A Bailey Nelson kill then put Valley City State back in the lead for the remainder of the game, as the Vikings took set five 15-11.
Valley City State has now won four of their last six matches.
"We've had a lot of development already this season," he said. "If you look statistically at our first matches of the year, we were hitting negative as a team. We've spent a good bulk of our time lately working on being better, especially on out of system balls, and I think that really showed tonight."
The Vikings had four hitters who contributed double-digit kills. Katie Juarez and Bailey Nelson each tallied 13 while Clara Wieland and Caitlyn Fischbach each added 10.
Valley City State also recorded 11 ace serves as a team with Charlotte Huschka, Kallene Klever, and Reagan Ingstad each tallying three and Morganne Eppard adding two.
Huschka recorded 26 digs to lead the Viking defense. Ingstad and Alexa Walby each contributed 25 assists for Valley City State.
Valley City State improves to 4-6 while Concordia College-Moorhead falls to 1-7 on the season.
UP NEXT: Valley City State travels to the NDSCS Invitational to play four scrimmages Friday and Saturday in Wahpeton, N.D. The Vikings return home Friday, Sept. 20th, when they host Waldorf University to open conference play at 7 p.m. in Graichen Gym.