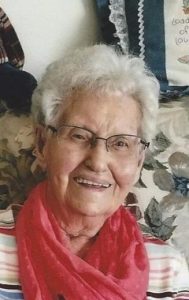 Evelyn Reardon, 103, of Jamestown, ND, passed away Thursday evening, September 26, 2019 at Ave Maria Village, Jamestown.
Evelyn Staloch was born May 12, 1916 in Wells, MN, the daughter of Frank and Mary (Schultz) Staloch. As a small child, she moved with her family to Windsor, ND where she attended country school. Evelyn attended beauty school in Fargo, ND and returned to the family farm, then worked for Trinity Hospital in Jamestown. Evenly and Orville Reardon were united in marriage in December 1937. They farmed near Medina, ND for 4 years and then moved to a farm near Ypsilanti, ND where they continued to farm until retirement. They began working for the North Dakota State Hospital in the fall of 1961. They eventually moved to Jamestown in 1974 where Evelyn volunteered for the Jamestown Hospital and North Dakota State Hospital. She was a member of the St. Jams Basilica, St. James Tabernacle, St. Pauline's Circle, Past President of the Does, and member of the V.F.W. Auxiliary. Evelyn enjoyed gardening, traveling, playing bingo and cards, and going to casinos.
Evelyn is survived by her three daughters, Carol (Jon) Philips, Vonnie (Skeet) Bair, Windsor, ND, and Vicky (Frank) Hassler, Jamestown; 7 grandchildren; 14 great-grandchildren; 3 great great grandchildren; sisters, Victoria, Marcella, and Ceil; and brother, William Staloch.
She was preceded in death by her parents, Frank & Mary Staloch; husband, Orville Reardon; brothers, Herb and Jim Staloch; and grandchildren, Kirsten Gallagher and Jeff Bair. 
Mass of Christian Burial: 10:30 a.m., Thursday, October 3, 2019 at St. Mathias Catholic Church, Windsor, ND.
Visitation: 4:00 p.m. to 6:00 p.m., Wednesday, October 2, 2019 at Williams Funeral Home, Jamestown, and one hour before the service at the church.
Burial: St. Pauline's Cemetery, Windsor, ND.