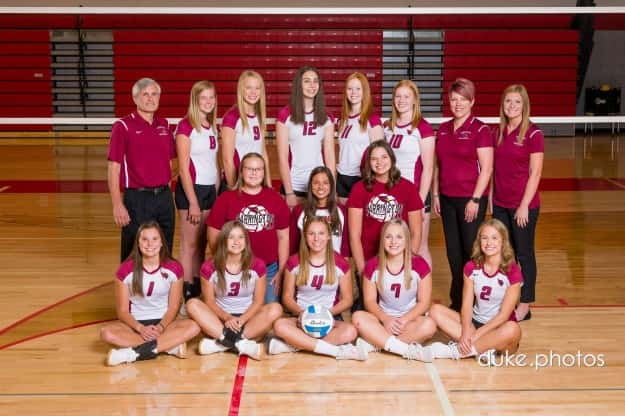 LEAL, N.D. (NewsDakota.com) Bella Hone had a match high nine kills and Hannah Hagel added seven as the Cardinals roll to a 3-0 victory over the Bison of Barnes County North (25-9, 25-16, 25-13). Carrington improves to 3-1 in District 5 and 21-2 overall, BCN drops to 1-3 in District 5 and 8-13 overall.
The Bison jumped out to an early 3-0 lead in the first set but Tessa Page had two aces and Hagel had three kills to help the Cardinals win set number one. Set two Carrington led the whole way and in set number three, the Bison tied the score at nine, 10, 11 and 12, but Carrington pulled away for the sweep. Page had a total of three aces for Carrington. For the Bison, Ashley McFadgen had six kills.
Next up for Carrington will be the Carrington varsity tournament on Saturday, October 12th weather permitting. Matches will start at 8am with pool play, Carrington is in pool A and will take on Turtle Lake at 8am, Benson County at 930am and Minot Ryan at 1130am in the west gym. Tourney action will start at 1pm, KDAK will have coverage of Carrington starting at 8am.