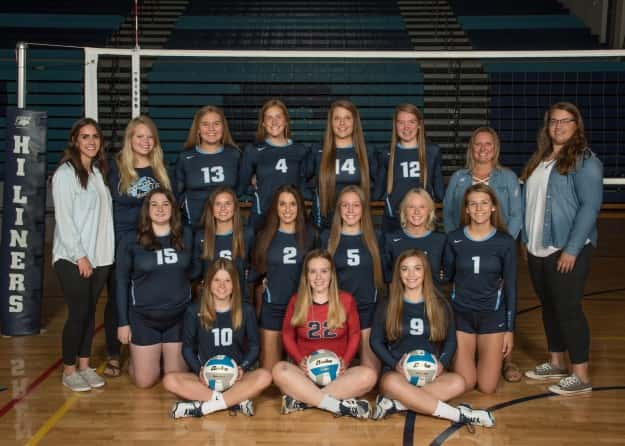 WEST FARGO, N.D. (NewsDakota.com) – After taking the first two sets 25-21 and 25-13, Valley City headed into the fourth set with a sweep in mind. On the road against the number 2 team currently in the east. But West Fargo jumped out to a 9-1 start in the fourth set and cruised to a 25-11 win. Would this be a repeat of last Thursday when Red River came back after down 2-0 to win. No.
The Hi-Liners came back strong in the fourth set jumping out to a 8-1 lead and never looking back on the way to a 25-14 win and the match 3-1.
In the third set, the Hi-Liners were called for a rotation violation twice and Coach Mattie Cruff says the girls did a great job to shake that off.
It was another great defensive effort by the Hi-Liners. Macy Olstad and Cali Halgrimson led the defense and 22 and 20 digs respectively. They were also 1-2 in kills. Olstad had 18 and Halgrimson had 12. Alyssa Hatcher had 14 digs and Jocey Kriewald added 13 digs. Lindsey Noeske had 7 kills and a team high four blocks.
Head Coach Mattie Cruff says the defense came up big in this one.
Erin Binstock led the Packers with 14 kills and 20 digs and Katelyn Tveito had 25 assists.
Valley City improves to 12-7 overall and 8-5 in the EDC. West Fargo, who lost for just the third time in 13 matches, falls to 18-7 overall and 9-5 in the EDC.
Both teams will be in the Scheels Invitational Volleyball Tournament Friday and Saturday.