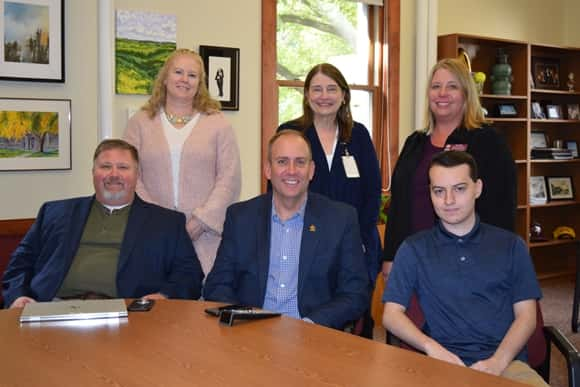 VALLEY CITY, N.D. (VCSU) – Shane Hitch, a Valley City State University sophomore from West Fargo majoring in software engineering, was one of 100 students from across the nation and the only student from North Dakota named a Cyber FastTrack finalist.
Hitch has been awarded a $22,000 scholarship to the Applied Cybersecurity certificate program operated by SANS Technology Institute. Hitch, one of only 100 students nationwide to receive the scholarship, was a finalist in the SANS Cyber FastTrack challenge, a free online cybersecurity program for college students and graduates designed to help improve the quality and preparation of cybersecurity professionals in this growing, global career field.
Hitch competed over several months to solve more than 250 cybersecurity challenges. More than 13,000 students completed the first phase of this year's Cyber FastTrack. Over the course of several months, the competition was narrowed to 2,579 quarter finalists, then 541 semi-finalists, and finally 100 finalists from 63 schools across 28 states who were selected to receive a full scholarship for advanced cyber skills training through the SANS Technology Institute.
Through the Applied Cybersecurity (ACS) program, students complete immersion training in key areas of cybersecurity and pass challenging certification exams as they gain the knowledge, tools and techniques needed to launch a career in cybersecurity. At the end of each course, they'll earn Global Information Assurance Certification, which employers recognize and value as validation of their skill set. During the program and especially upon completion, cyber workforce-ready students will be introduced to select employers for internships and employment opportunities.
"I've been using a computer since I was 2 years old, I've always loved it. I spend my spare time and hobbies working with technology", said Hitch. "In progressing through the assessment and the game, my background in software engineering helped greatly, particularly in the reverse engineering of Assembly Language."
"These students are future cybersecurity professionals who are in demand in virtually every industry and sector," said North Dakota Chief Information Officer Shawn Riley. "Cyber FastTrack is an engaging, fun way for students to explore their affinity for these critical skills and join a workforce that is in demand globally. Congratulations to Shane on his incredible accomplishment!"
Valley City State University President Alan LaFave expressed great appreciation for the SANS Cyber FastTrack Program and Shane's accomplishments. "We are very fortunate to have these opportunities for our students demonstrating their skills and capabilities. Shane has proven this, here at VCSU. We are very happy and proud of Shane, and know this is just the beginning of a very exciting future for him." VCSU Software Engineering Professor Susan Pfeifer, seconded, "Shane is a very highly motivated student. Upon learning of this program, he was definitely in mind as someone I wanted to see participate."
"Congratulations to Shane on this unprecedented accomplishment," said North Dakota University System Chancellor Mark Hagerott. "It is a really big deal, not only because it is a significant scholarship, but it represents national level competition. SANS institute is the gold standard and as 1 of 100 nationwide winners from all over, Shane has shown that people in North Dakota can compete with the best."

Shane Hitch