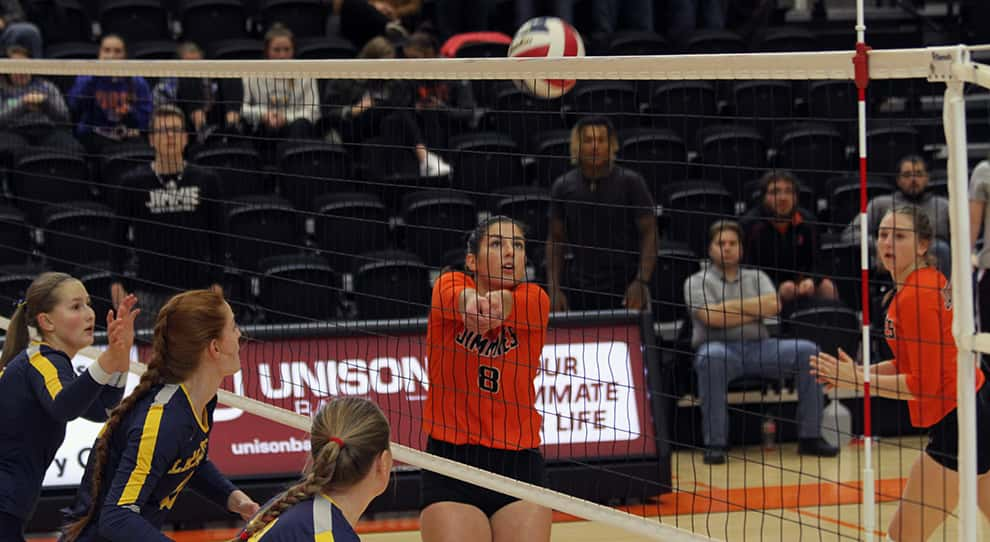 JAMESTOWN, N.D. (JimmieAthletics.com) – The eighth-ranked University of Jamestown hit a season-best .453 Monday night, defeating Mount Marty (S.D.) College 25-10, 25-14, 25-10 Monday night at Harold Newman Arena.
Jamestown (25-4, 13-2 Great Plains Athletic Conference) closes out the regular season with a home match Wednesday against College of Saint Mary (Neb.)
UJ took a 20-3 lead on the way to a 25-10 first set victory.
Mount Marty got within 15-10 in the second set but a 7-2 Jimmie run quickly pushed the lead to 10 before Jamestown closed out the set 25-14.
Two separate 5-0 runs by UJ in the third set keyed a 25-10 win and a match sweep.
Anna Holen (SO/LaMoure, N.D.) had a team-high 12 kills and 13 digs to lead the Jimmies. Jordan Thomas (SR/Pingree, N.D.) added seven kills and hit .429, while Britta Knudson (SR/Bismarck, N.D.) had six kills and hit .667. Taylor Sabinash (SO/Kensal, N.D.) hit a team-best .714 with five kills.
Jackie Meiklejohn (SO/Dickey, N.D.) passed out 13 assists and Megan Gaffaney (SO/Jamestown, N.D.) had 10.
Corina Ruud (JR/Breezy Point, Minn.) racked up seven block assists, with Holen, Knudson, and Sabinash adding three apiece.