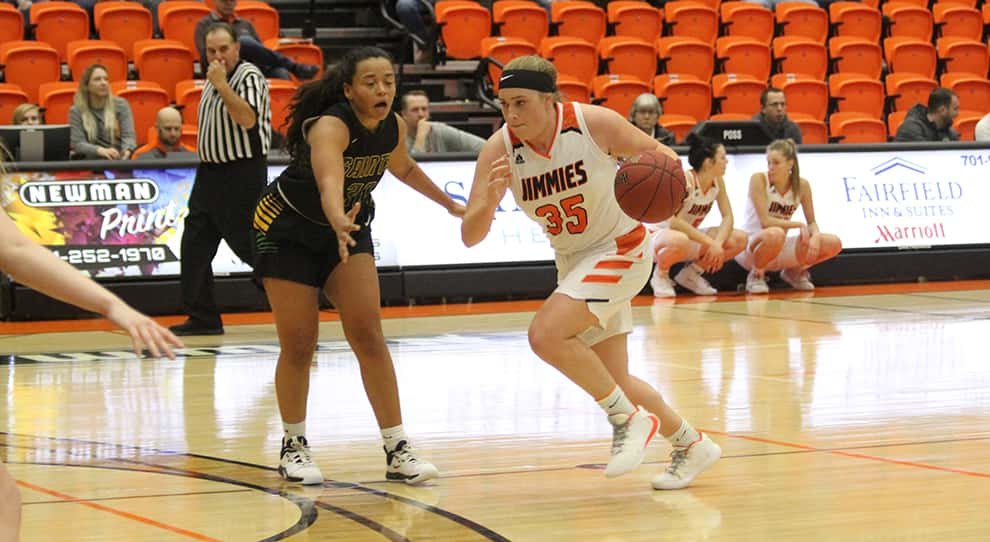 JAMESTOWN, N.D. (JimmieAthletics.com) – The University of Jamestown women's basketball team built a 47-16 halftime lead and never looked back, defeating Presentation (S.D.) College 78-53 in their home opener Tuesday night at Harold Newman Arena.
Jamestown (2-1) trailed 3-0 early but outscored the Saints 18-4 over the remainder of the first quarter.
Macy Nilsen (FR/Edina, MN) scored the first five points of the second quarter as UJ led 23-7 with 7:19 before halftime. Kayla Buchanan (FR/Wheatland, WY) made a pair of free throws to give Jamestown their first 30-point lead of the game, 44-13, at the 2:33 mark of the half. Buchanan drained a three-pointer on UJ's next possession to stretch the lead to 47-13.
The Jimmies' largest lead of the night came with 5:09 in the third quarter after Mackensi Higlin (JR/Mandan, ND) converted a three-point play to make it 63-19. Presentation finished the quarter on a 12-2 run to cut the lead to 34 entering the final period.
The Saints shot 9-for-17 in the fourth quarter while holding Jamestown to 5-of-20 shooting and outscored the Jimmies 22-13.
Noelle Josephson (SO/Ramsey, MN) and Olivia Anderson (SR/Edgeley, ND) led a balanced scoring attack with nine points each. Grace Benz (SO/Steele, ND) and Hannah DeMars (FR/Grand Rapids, MN) were next with eight points apiece.
Ashlie Collins (FR/Forest Grove, OR) grabbed a team-high five rebounds while DeMars dished out five assists. Higlin finished with three steals and a pair of blocked shots.
Presentation was led by Jada Campbell's double-double of 18 points and 10 rebounds. Aimee Campbell and Leannah Vitalis were also in double figures with 10 points each.
Next up for the Jimmies is a non-conference road contest at Dickinson State (N.D.) Wednesday at 6:30 p.m.