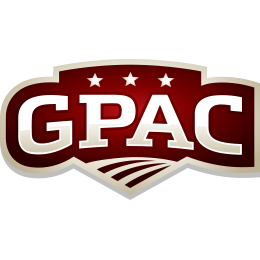 SIOUX CITY, Iowa (GPACSports.com) – Northwestern College will be the number one seed when the 2019 Cypress Risk Management Great Plains Athletic Conference (GPAC) Volleyball Tournament opens on Saturday, November 9.  The Red Raiders were the regular season champion with a perfect 16-0 league record.
The two seed with be Jamestown, who finished with a league record of 14-2 .  Concordia will be the third seed after finishing league play at 11-5.  Midland will be final host in the quarterfinals, as the four seed, after ending 10-6 in conference play.
Dordt will be the five seed (9-7), with Doane as the six seed (8-8).  Morningside will be the seventh seed (8-8) and College of Saint Mary will be the eighth seed (7-9).  GPAC tie-breakers were used for all ties in the standings.
Northwestern will receive the GPAC regular season automatic berth to the 2019 NAIA National Volleyball Championship. The Cypress Risk Management GPAC Volleyball Tournament winner (runner-up if Northwestern wins) also receives an automatic berth to the NAIA National Volleyball Championship.
The 2019 NAIA Volleyball National Championship includes a field of 44  teams. Twenty-four teams will compete in 12 opening round matches played on campus sites nationwide on November 23. The top 19 seeds and final site host (Morningside) receive an opening round bye. Opening round winners will join the top 19 and host at the final site for a 32-team pool play NAIA National Championship December 3-7 in Sioux City at the Tyson Events Center.
GPAC Volleyball Quarterfinals – Saturday, November 9
Records listed as (Overall, GPAC)
#8 College of Saint Mary (22-13, 7-9) at #1 Northwestern (28-0, 16-0), 7pm
#5 Dordt (18-10, 9-7) at #4 Midland (18-9, 10-6) at, 7pm
#6 Doane (17-12, 8-8) at #3 Concordia (22-5, 11-5), 7pm
#7 Morningside (16-10, 8-8) at #2 Jamestown (26-4, 14-2), 4pm
GPAC Volleyball Semifinals – Wednesday, November 13
Highest Seed Hosts
#4/#5 Winner vs. #1/#8 Winner, 7pm
#3/#6 Winner vs. #2/#7 Winner, 7pm
GPAC Volleyball Championship – Saturday, November 16
Semifinal Winners, At Highest Seed, 7pm