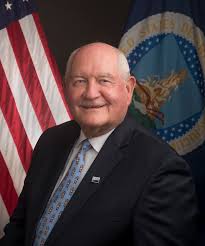 WASHINGTON, D.C. (NewsDakota.com) – Secretary of Agriculture Sonny Perdue approved North Dakota's disaster declaration for 47 counties Friday.
The approval follows the result of natural disasters in 2019, including extreme late season rainfall and the early snowstorm. Senator John Hoeven hosted Under Secretary for Farm Production and Conservation Bill Northey in the Red River Valley for a roundtable and field tour to hear directly from producers and see the impacts of flooding and an early blizzard firsthand.
"Under Secretary Northey has been a vital partner in delivering the assistance our producers need to weather ongoing trade negotiations and disasters," Hoeven said.
"We appreciate his willingness to come to North Dakota to meet with our farmers and see the challenges they face in the field. That firsthand knowledge helps drive home the need to provide assistance under MFP and WHIP+ as soon as possible. At the same time, his visit is an opportunity to advance other important priorities, including FSA staffing, crop insurance extensions and assistance for ranchers, which we are working to address as part of our overall efforts to counter the impacts of trade uncertainty, blizzards and flooding."
The designation makes producers in these counties automatically eligible for federal disaster assistance under the Wildfire and Hurricane Indemnity Program Plus (WHIP+). Producers outside counties with a declared disaster may also be eligible, but must supply documentation establishing that crops were directly impacted by a qualifying disaster event.
Governor Doug Burgum submitted the request to Perdue last Friday, working in cooperation with Doug Goehring, North Dakota's congressional delegation of U.S. Sen. John Hoeven, U.S. Sen. Kevin Cramer and Congressman Kelly Armstrong, the federal Farm Service Agency and agencies across state government.
"We deeply appreciate Secretary Perdue's quick response to our request, because help can't come soon enough for our farmers and ranchers facing one of the most difficult and stressful seasons on record," Burgum said. "We continue to explore every available avenue to make sure our ag producers have the resources and tools they need to cope with these unprecedented wet conditions that are delaying the harvest and hurting our livestock producers. We're extremely grateful to the state, federal and local officials and all the agencies that helped prepare the disaster request."
"We are extremely grateful to Secretary Perdue for his swift reply to our request," said Goehring, who is currently in Mexico with Perdue on a trade mission. "The designation makes resources available to help alleviate the difficult situation North Dakota agricultural producers are facing."