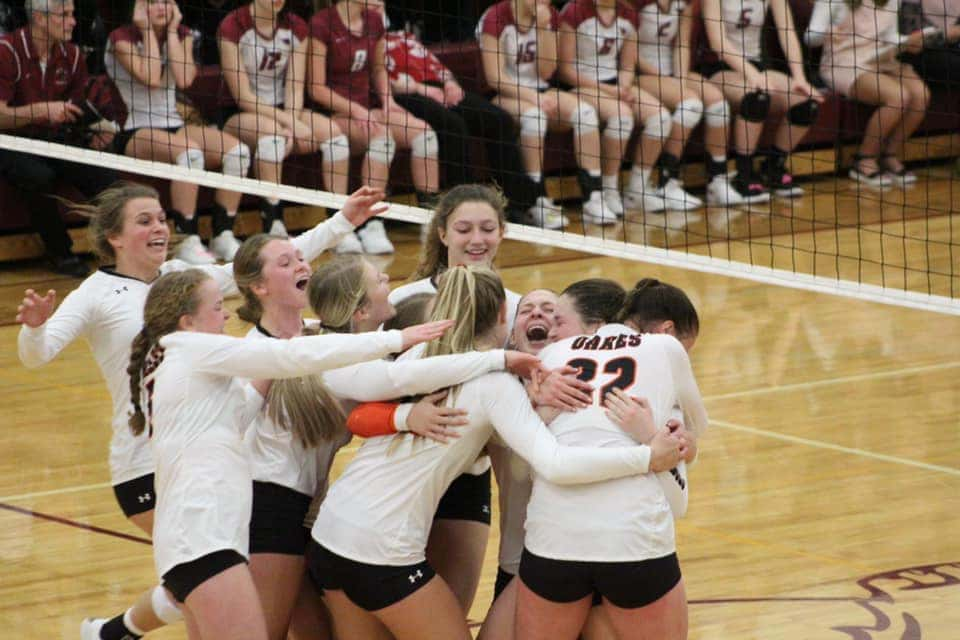 LINTON, N.D. (NewsDakota.com) – In front of a rowdy crowd, the Oakes Tornadoes captured back-to-back Region 3 championships last night with a 3-0 (25-9, 25-11, 25-19) win over the Carrington Cardinals.
Oakes was near flawless last night. The team played arguably their best match of the season, and it came at the biggest moment to date.
It was a 7-1 run to begin the night and it set the tone for all three sets. Oakes put the pedal down and took the final six points of the first set to take the opener 25-9. They followed it up by winning 25-11 in the 2nd set. The 2nd set was propelled by an 11-0 run with senior Jaida Seyer at the service line.
Set 3 was as close as Carrington came to threatening the Tornadoes, but Oakes made sure to put it away late by scoring six of the last eight points.
Team 29 was brilliant in just about every facet of the game, but they shined extraordinarily at the service line. Oakes finished with 12 aces. Nicole Schmitz had five while Sadie Hansen had four.
Schmitz was named Region 3 Player of the Year after the match. Schmitz had a match high 19 kills in the championship win.
Abby Cox had seven kills including the final kill of the night.
Claire Wagner covered the entire floor as the libero and recorded one ace.
Shayla Novak had six kills and Emma Muggli had five kills.
Oakes moves on to the state tournament in Fargo starting Thursday, November 21st. The bracket will be released during the Dakota Bowl on Friday. The bracket will be posted on NewsDakota.com when it becomes available.