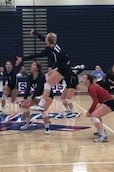 VLLEY CITY, N.D. (NewsDakota.com) – Fargo Davies and West Fargo Sheyenne are heading to next week's state volleyball tournament, Valley City and Shanley will have to qualify Saturday. Davies defeated Valley City, for a third time this year, 25-16, 25-18, 25-19.
In the first set, Grace Solberg had five kills for Davies leading them to a 25-16 win, thanks to a 5-1 run to end the set.
She would add three more kills in the second set which the Eagles won 25-18. The third set, Natalie Hallstrom had three kills during a game ending 5-0 run in the 25-19 win. Hallstrom had 10 kills for the Eagles. Solberg had 14 kills. Maddie Cooper and Morgan Hall had seven each. Senior setter Kenzie Langlie had 38 assists.
For Valley City, Macy Olstad led the way with eight kills. Jadyn Dieterle had four kills. Cali Hagrimson and Lindsey Noeske had three each. Natalie Lemnus had 10 assists while Dylann Diegel chipped in seven.
The Hi-Liners will face West Fargo in Saturday's state qualifying match. The Packers defeated Grand Forks Central in straight sets to advance. Valley City defeated West Fargo in four sets at West Fargo on October 8th. Then lost to the Packers in two sets in Jamestown towards the end of the season.
Valley City and West Fargo can be heard on 1490AM/96.3 FM KOVC and newsdakota.com