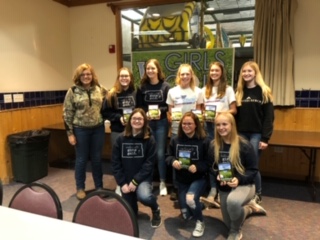 VALLEY CITY,N.D. (NewsDakota.cm) – The Valley City Hi-Liners recently handed out their year end awards for the girls golf team.
Here are this years recipients and some facts about this years team.
JV Most Improved: Brinklyn Johnson.
Rising Start: Emma Langemo.
Spirit Award: Amber Knutson and Katarina Vachal
Most Improved: Brynn Hagen
Best Golfer and Hi-Liner Award: Emma Mielke.
Some facts about this year's team. The team made the North Dakota High School Activities Association Team Scholar with a combined GPA of 3.5771. The broke the team scoring record with a 478 at the EDC meet. And one of the top golfers Amber Knutson was out with an injury. Emma Mielke broke 100 with a 98 at the Fargo Country Club. Every single golfer had a new personal best this year. Maggie Dockter and Brynn Hagen had three new personal best scores each this year.
(Photos courtesy of Amber Knutson.)
Hi-Liner Girls Golf Award Recipients.