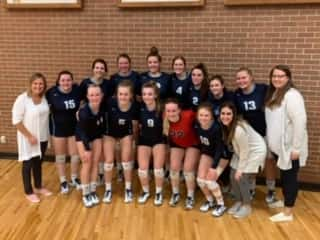 On behalf of the 2019 HiLiner Girls Volleyball moms (and dads), we'd like to say thank you to our community.  The support of our HiLiner family certainly showed what HiLiner Pride is all about. We do have a few individuals we'd like to personally thank and if you aren't mentioned here, it's not that you were purposely left out:
The Valley City Police Department, Barnes County Ambulance, Valley City Fire Department and those of you who cheered us out of town as we headed to Fargo for the tournament.
Diane Hochhalter for the HiLiner Fierce team photo as well as the individual shots of the girls we used on posters and banners and for the awesome video in support of our girls.  To JJ Thoreson, Anette Beatie, Deb Bielke, the VCHS Tech Ed Class for making the banners, head shots, and volleyballs. To Handy Hardware and Rental for supplies to put some of our things together.
The goody bags packed for the girls and coaches had gifts from Stoudt Ross Ford, Valley Officeworks, Tupperware from Natalie Sayler Meyer, J Stearns, and the moms.
Our hospitality room at the Hampton Inn and Suites was made possible with donations from Valley Meat Supply, SixD Construction, Noeske Seed Farms, Leroux Lochow Financial, Bridge City Dentistry, Halgrimsons, i3G Media, Posh Salon, Scherr's, Lemnus', and Lerud Mathias Funeral Home.  Josh and Tristan Johnson, Bryan and Sheila Kriewald and their girls did the decorating and hosting.
A special donation from a private party was given to the team for them to use for a team bonding activity.
The HiLiner Booster Club also made a monetary donation to help offset costs incurred while attending the 2019 ND State Volleyball Tournament.
Without the help and support of our wonderful students, faculty and staff at Jefferson Elementary, Washington Elementary, St. Catherine's Elementary, and VCHS along with the community as a whole, our experience this year wouldn't have been as memorable as it is.
To all of you…..THANK YOU!  
And now to our girls, thank you for a fun season.  It is wonderful to see you working as a team to achieve a goal.  To the seniors, Lindsey, Cali, Halley, Macy, Alyssa, Natalie, and Allysen, good luck to you and all you set out to do.  To the rest of the team, good luck next year, we'll be cheering.