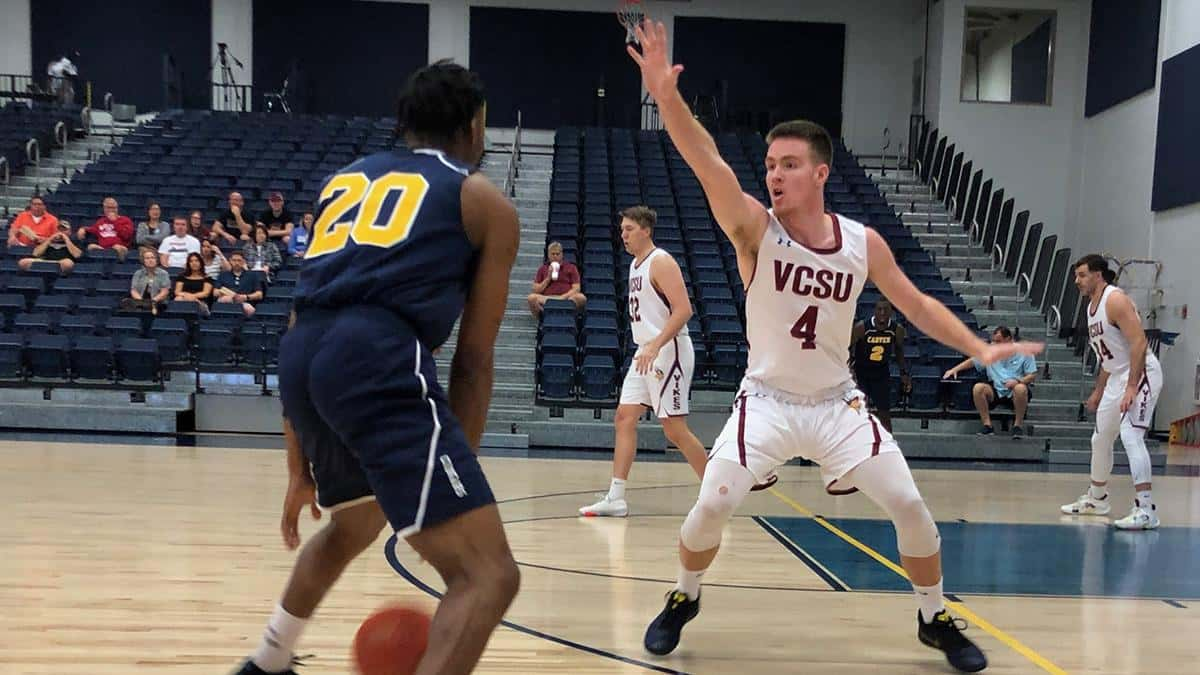 PANAMA CITY, FLA. – Three Vikings scored in double figures Saturday afternoon as the VCSU men's basketball team picked up its first win of the season during the Battle at the Beach tournament.
Connor Entzi poured in 19 points on 7-for-11 shooting, pacing the Vikings to a 65-60 win against Carver Bible College in the tournament's consolation semifinals. VCSU trailed 31-26 at halftime but outscored Carver 39-29 in the second half.
Valley City State improves to 1-8 overall this season after picking up its first countable win. The Vikings did win an exhibition game against Minot State earlier this season.
On Saturday, VCSU started slow against Carver Bible College. Carver led by as many as 10 points at 25-15 before the Vikings started to battle back. Denzel Kennedy's 3-pointer with 1:02 left in the first half cut the Vikings deficit to 31-26.
Trailing 47-43 midway through the second half, the Vikings scored the next six points to take the lead as part of a 13-3 run. Logan Nelson capped the spurt with five straight points, putting the Vikings ahead 56-50 with 5:21 remaining. Carver battled back to tie the game at 60-60 but the Viking defense held Carver scoreless over the final 2:08 and VCSU made just enough free throws for the five-point victory.
Entzi finished with a team-high 19 points and nine rebounds for VCSU. Nelson scored 14 points and dished four assists, and Chris Thompson scored 10 points. Both Denzel Kennedy and Michael Cornelious scored six points off the bench, and guard Austin Lee put together a solid all-around game with seven rebounds, four points and three assists. The Vikings won despite committing 22 turnovers.
VCSU shot 42 percent overall (22-53), 47 percent from 3-point range (7-15) and 70 percent at the line (14-20). Carver finished the game at 30 percent overall (18-61), 29 percent on 3's (9-31) and 83 percent on free throws (15-18).
The Vikings held a 45-29 rebounding advantage, including an 8-5 edge in offensive rebounds. Entzi had five of VCSU's offensive boards.
Carver's Rayford Washington poured in a game-high 27 points.